Are you a queer person who loves seeing gay love? In this blog post, I will talk about black gay interracial couples in the spotlight.
I love seeing gay couples, especially involving black queer men. In this world of homophobia, it warms my heart to see another gay man be intimate with another queer man. I used to side-eye gay black and Latin men who would get with queer men outside their race. Now I don't care. In this blog post, I will discuss some of the most famous gay interracial couples.
Black gay interracial couples in the spotlight
RuPaul and Georges LeBar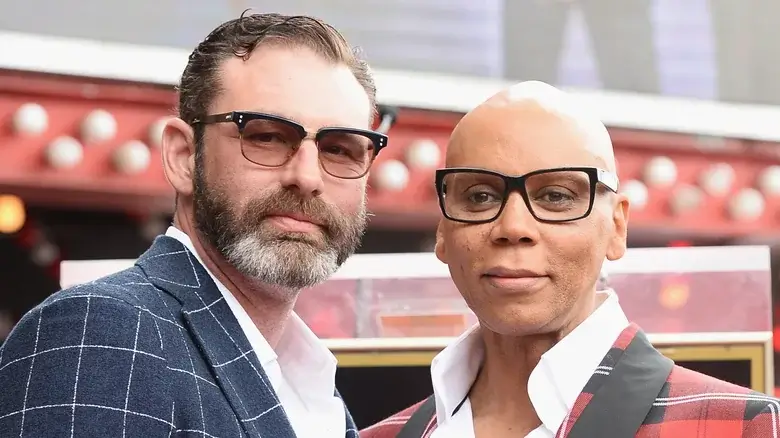 Young, old, black, or white I'm pretty sure you've heard of Rupaul. And if you haven't you probably have been living under a rock. RuPaul is one of the most famous black gay influencers. Most people know Rupaul from his international hit tv show "Rupaul's Drag Race".
RuPaul is from San Diego, California. His parents are Irving Charles and Ernestine Charles. He became famous after he moved to Atlanta. During his career modeled for MAC Cosmetics and acted in several movies and tv shows including "Ugly Betty" and "Girl Boss". Alot of older Hollywood stars have faded away but RuPaul continues to remain relevant.
RuPaul is married to Georges Lebar who is white. There have been black queer men and white queer men against their married because of their race but I find it beautiful. RuPaul has been married to his husband since the 90s which is a long time in gay years. A two-year relationship is considered a long time for a gay couple. RuPaul met his bae at a club in New York City. RuPaul is older than George but like Aaliyah said "Age Aint Nothing But a Number"(as long as you're older than 18). Georges is very low-key. I didn't even know RuPaul was with a white man till recently.
Rob Smith and Misha Safronov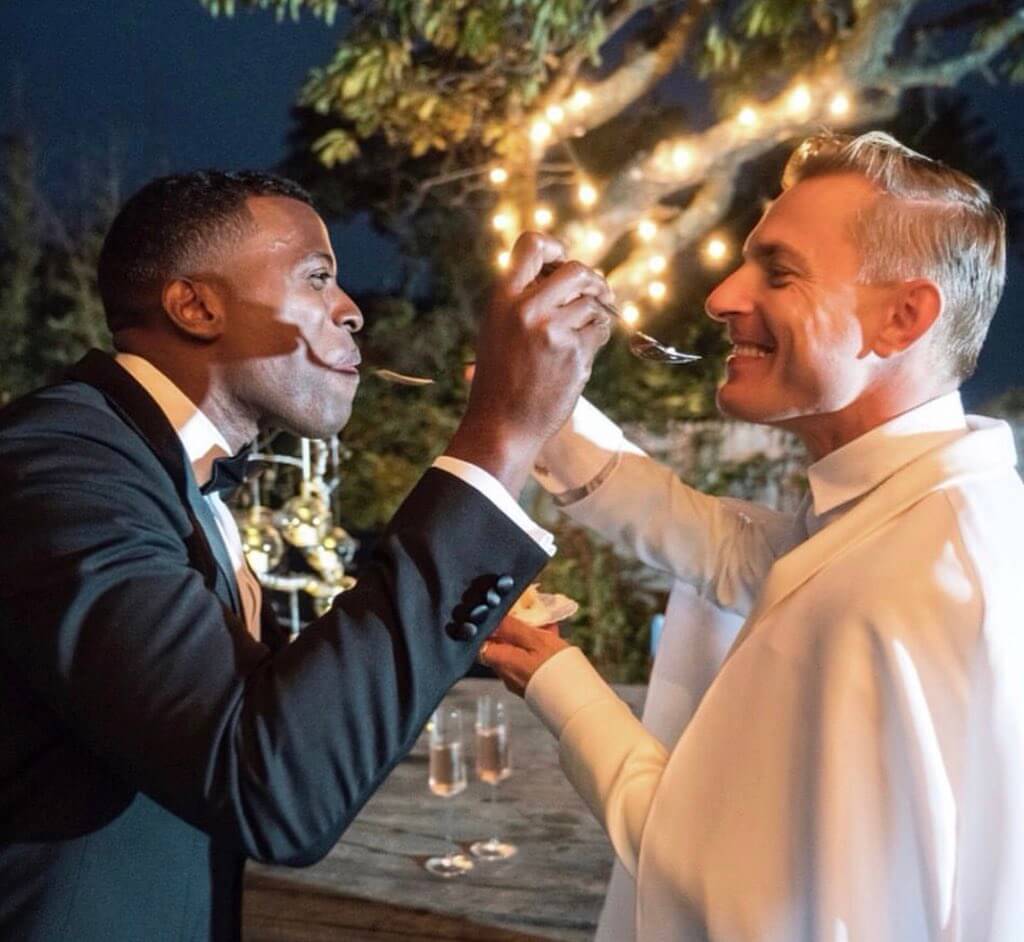 Rob Smith is another black gay influencer. He hosted one of my brunch day parties in 2017. He sold his book, "Always a soldier" and read a paragraph from that book. Cute event.
Rob Smith was born and raised in Ohio. He came from a working-class family. Rob went to John R Butchel High School and went into the military afterward. Initially, Rob was one of the few closeted black gay men. Later on, while in service he became openly gay. He even protest the "Don't ask, don't tell" policy which banned gay, queer, bisexual, and transgender persons from being open with their sexuality and serving in the army. Being an openly black gay man in the armed services is something I truly respect. First, in the black community, there's a lot of homophobia even within your own family. Second, being in the armed forces requires you to protect a type of masculinity. Rob later became a journalist and is now a report with YAHOO. One interesting fact about Rob is that he's Republican(a party that has been known to condemn gay marriage)
Rob is married to a white man Misha Safronov. Misha is a graphic designer and visual artist. The gay couple has been married since 2017.
Don Lemon and Tim Malone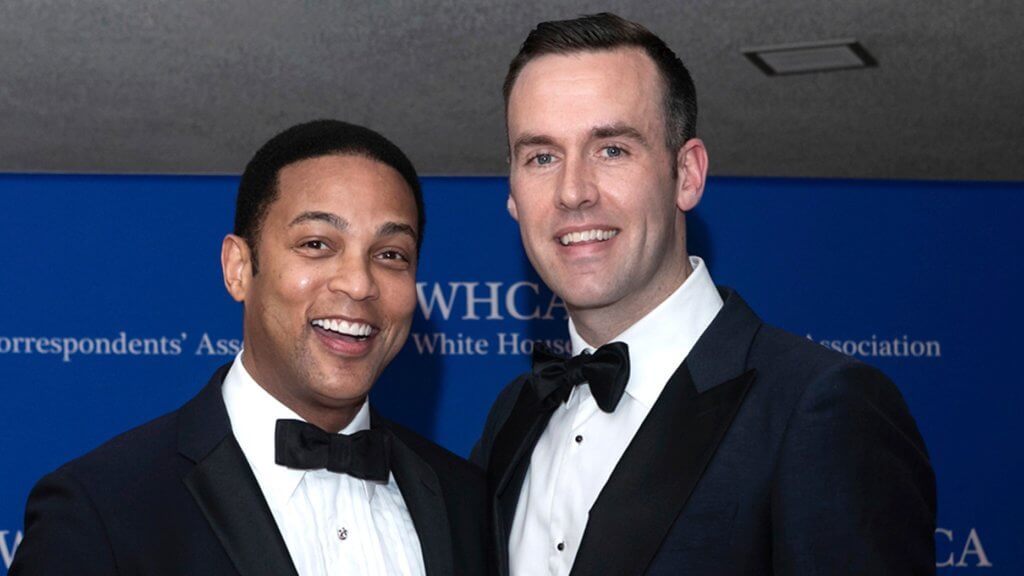 Don Lemon is another black gay journalist married to a white man. I absolutely love Don Lemon. He's smart, articulate, and seems like a positive role model for other black gay men.
Don Lemon is from Baton Rouge, Louisiana, His parents are Katherine Marie Bouligney and Wilmon Lee Richardson. Don pursued an interest in journalism by going to Brooklyn College. While there he majored in broadcast journalist. After graduating from college Don worked as a reporter in Alabama and later moved to Chi-town. Currently, he's an anchor on CNN. I hear a lot of backlash against Don and claims that he is a black puppet. Honestly, I give him his respects. He's one of the few black gay journalists and does his job well.
Don is married to Tim Malone. The gay couple met in New York City and began dating in 2016. The rest is history. I used to condemn black queer men getting with white queer men but I've grown so much. Just seeing the couple together and looking happy touches me.
Challenges of gay interracial dating
Anti lgbt laws affecting gay visibility
I believe that who you sleep in the bed with should be nobody's business. Gay, straight, or transgender you should have the freedom to be with anyone you are attracted to. The gay liberation movement has encouraged this freedom. After the Stone Wall Riot of 1969 pride marches spread all over the world in support of gay pride but more importantly gay rights.
Even years after gay rights movement anti lgbt laws were put in place that restricted gay visibility. For instance in Minnesota there were two men who wanted to marry each other. The stated banned gay marriage so the gay couple went to court. The court case was Baker v Nelson and in the end the United States Court declared gay marriage as unconstitutional. In another court case People v Onofre the judge declared it was illegal between homosexuals to engage in sodomy( oral and anal sex).
Gay homophobes against gay dating
Thankfully many anti lgbt laws in the have been reversed. But society doesn't really think that way. Even in a gay-friendly city like New York City, there is still homophobia in a lot of places.
What's ironic is that there are a lot of gays that bash other gays aka internalized homophobia. Homosexual closeted men who have sex with men feel a deep sense of shame to have same-sex relationships.
Society opposing interracial dating
Layer that with interracial dating and that's even more of a challenge.
Growing up I've seen other gay and straight folk bash other black gay men for dating outside their race. Those types of men have been called "Oreos". I spoke to my older gay mentor who explained to me why he disagreed with a black person dating a white person. His argument was based on the discrimination he faced by white men growing up. He also stated that many queer white men sexualize black queer men and don't want to pursue an actual intimate relationship. I've been on gay dating apps like Grindr and Scruff where men would blatantly say that they want only to be "a black man's fantasy". I've been in gay spaces full of white men and overheard conversations where they said they only date within their race.
I admit I've been one of those ignorant folks that felt that black queer men should date within our race since it's already tough for us to date. But I've learned that not all white men are the same. There are some really genuine white men. I also learned that unconditional love can exist between two people regardless of race and background.
Wrap up
There are many more black gay interracial couples. The ones I listed above are just some of the most popular ones.
As I said before love has no barriers: black, white, old, young, etc. I've seen and met interracial couples who seemed to gel perfectly with each other
If you want to know more about celebrities and entertainment news subscribe to this blog.