Are you a gay man visiting or living in New York who wants to meet hot gay men? Check out this blog post and find out the 17 hottest gay bars in NY.
New York City is one of the gayest cities in the country. The gayest part of NYC is in the New York gay neighborhoods like Chelsea, East Village, and Hell's Kitchen which have tons of gay bars (also called queer bars, gay pubs, & boy bars). Even those gay travel destinations have a huge gay scene there are tons of other places in New York for gay men to meet each other. I will share with you a list of dive bars and gay venues where you'll find all types of hot gay me.
17 hottest gay bars in NY
1. Boxer's– bar with bartenders in actual boxers
Boxer's is a gay franchise with spots in Philadelphia and other places outside of New York. It's one of New York's best gay bars. There are locations in Washington Heights which is predominantly Hispanic and in Hell's Kitchen which is a gay neighborhood. You'll see sexy, buffed bartenders dressed in boxers with no shirts on. Men of all ages and backgrounds come here so you'll definitely find people to have engaged conversations with no matter where you're from. I like Hell's Kitchen but my favorite location was the one by 23rd St since it had a pool table.
Before the coronavirus outbreak Boxers would be packed out on Fridays in the Hell's Kitchen location. There would be a long line outside the bar's entrance. There is a dance floor upstairs and downstairs. If you want to meet a lot of gay black men and gay Latin men the best location to go to is the Washington Heights location, which is in a neighborhood that is predominantly full of persons of color. There is a $5 admission to get in.
2. Lambda Lounge– black gay bar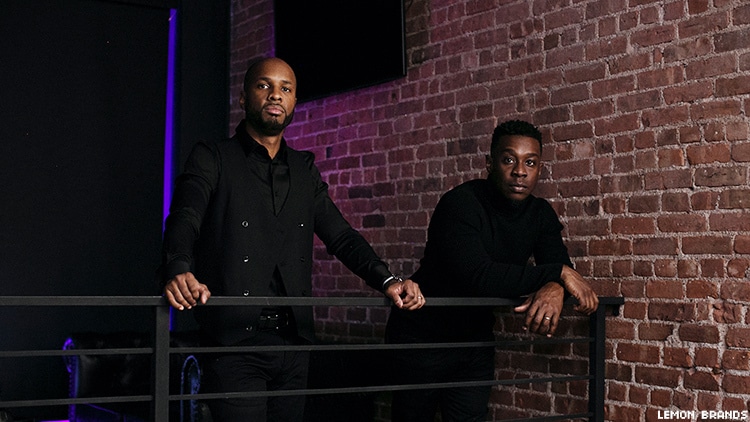 This venue is one of the last black gay bars in NY located on the west side of Harlem. The owners of the upscale bar lounge are the black gay couple Charles Hugh and Ricky Solomon. They created Lambda Lounge to give a space for the black community in Harlem. I proposed to actually host an event at this beautiful establishment but unfortunately, my plans were cut short due to the coronavirus epidemic.
The black leather furniture, brick wall, and flat-screen TVs give the place a modern look. I know some of the gay black men that are very selective in clubs and lounges to frequent. These same black gay men enjoy going to Lambda Lounge which tells you that the venue is very popular among the black gay crowd including the classy and sophisticated individuals. Even if you don't drink you'll have to opportunity to sit down and network with other gay men. This is one of the few New York gay bars that have remained open during the pandemic.
3. Hangar Bar– gay bar with mixed crowd
Hangar Bar is a NYC gay bar I've been to a couple of times and always enjoyed myself. In my opinion, it's one of the best gay bars in NYC. Hangar is located in West Village, a gay neighborhood in New York City, on Christopher Street. The venue is fairly spacious and has a rustic atmosphere. There is a dance space on the main floor and there's a small basement with another dance space. The drink specials are good and the drinks are strong.
I remember getting so twisted there I barely was able to get back home on my feet. Besides the bar, there are pool tables in the back. The crowd is usually mature men but you'll find a good portion of the black and brown LGBT community here during certain occasions. One of the best times to come to this bar is during Pride Month(Christopher St be lit!). Fortunately, this bar has managed to survive the coronavirus pandemic and stay open.
4. Eagle NYC– bar for men interested in fetishes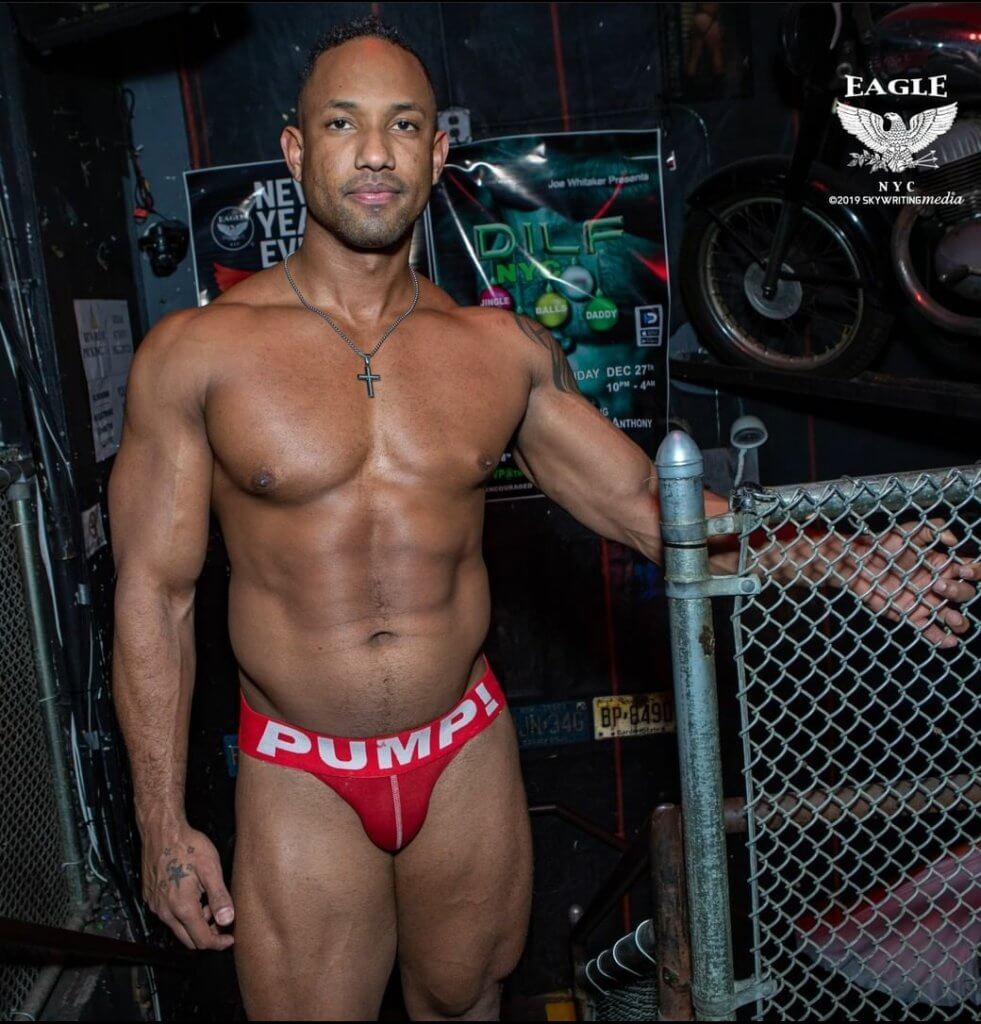 This bar is part of gay history. In the NBC article "How 'The Eagle Became One of the Most Recognized Gay Bar Names" by Mikelle Street it's mentioned that the Eagle bar in 1970 as a pub but changed,
It later became one of New York's most popular gay bars for men interested in leather and fetishes. Before the coronavirus on Monday nights, there would be a happy hour dedicated to people who enjoy foot fetishes. There are other nights of the week for guys into leather.
5. Corners– intimate gay bar
The Corners is a dive bar in Bedford Stuyvesant, Brooklyn which is one the most vibrant areas in New York NY. It's a small bar with a rustic look. There were two black gay event producers who have hosted events here. One of those producers was the Kingsmen who used to throw their weekly parties on Thursdays. I've been here one time when a black gay promoter named He's Gotta Have It Bk hosted one of their many Saturday night parties. The place is small but intimate.
6. Xstasy Bar and Lounge– latin bar in Brooklyn
This Latin gay bar is located in Sunset Park, Brooklyn. It is deep in Brooklyn but if you want a cool party experience come to Xstasy. I've been to this gay bar during the weekdays and it's usually mellow but on the weekends it gets full. There is the main DJ who plays a mix of house, pop, Latin, and r&b music. If you don't want to dance you can sit and watch Rupaul drag race or music videos.
There are different nights such as Bingo and nights with drag shows. The crowd has a diverse mix including black gay and Spanish men. Xstasy is in a desolate area right across the street from a graveyard looking site so I would suggest you take a UBER there or drink (if you decide not to drink)
7. Friend's Tavern– latin bar in Queens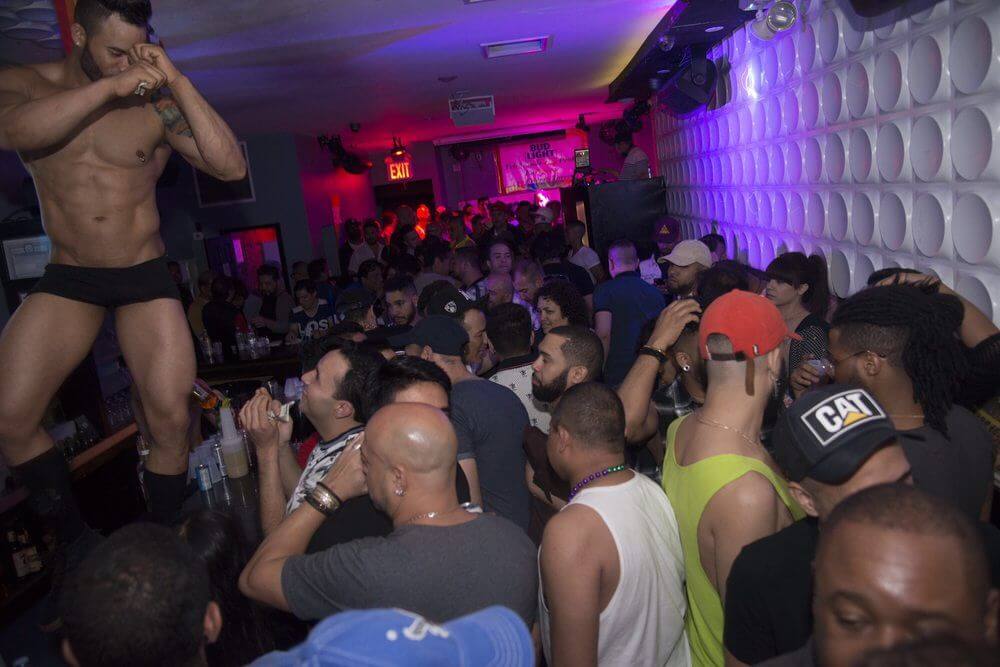 Friend's Tavern is located in Jackson Heights on Roosevelt Avenue, one of the busiest strips in Queens. There are several other Latin Jackson Heights gay bars and gay clubs including Club Evolution and Music Box nearby on the same strip Friend's Tavern is one of my favorite gay bars near me. This is the oldest gay bar in Queens. I can remember one time I've been there for happy hour and their dance parties. At Friend's Tavern, you will mostly see gay Hispanic men but you'll also see some black gay men. The drinks here are not Manhattan prices so you won't break your pockets as much as you would in the city. If you live in Queens this is one of the gay bars in NYC that you should go to.
8. King's Bar– Latin bar in Queens
Kings Bar is another gay bar in Jackson Heights, Queens. It's a low-key, small, and intimate spot a few blocks from the Roosevelt Ave train station. I've been there a couple of times during a regular night and during a drag brunch on Sunday. The drag brunch was lit and the food wasn't bad. The menu had a decent selection and the prices of the food and drinks weren't bad. The drag performance consisted of two drag queens who definitely were able to capture the attention of the audience. The crowd is full of Spanish gay men but you will also find some black gay men at King's Bar.
9. Hombres Lounge- latin bar in Queens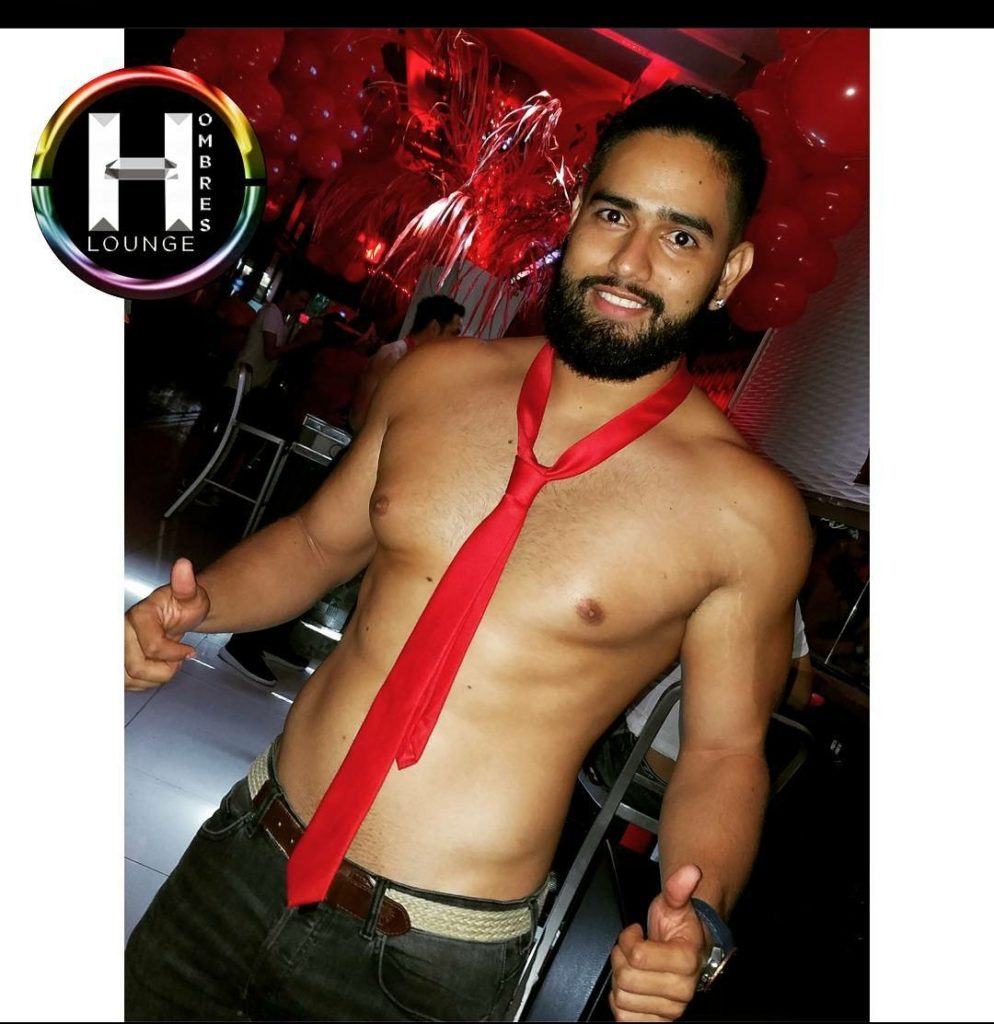 I don't like to travel far and am always on the hunt for a gay bar near me. And Hombres Lounge is one of the best local gay hangout spots near me for the black and Latin LGBTQ community. I've had so many gay experiences here I don't even know where to start. I've actually met my ex-boyfriend here so this place always brings back nostalgic memories. Hombres Lounge has two floors. On the first floor are the bar and the dancing section. In the basement, there are bathrooms and a seating section. The bartenders look ok and there are go-go dancers who look decent as well. As you can tell by the name Hombres has mostly a Spanish crowd. This is one of the Latin gay hangouts in Queens for the older and younger crowd so if you come here you'll definitely fit in.
10. Ritz– bar with hot latin men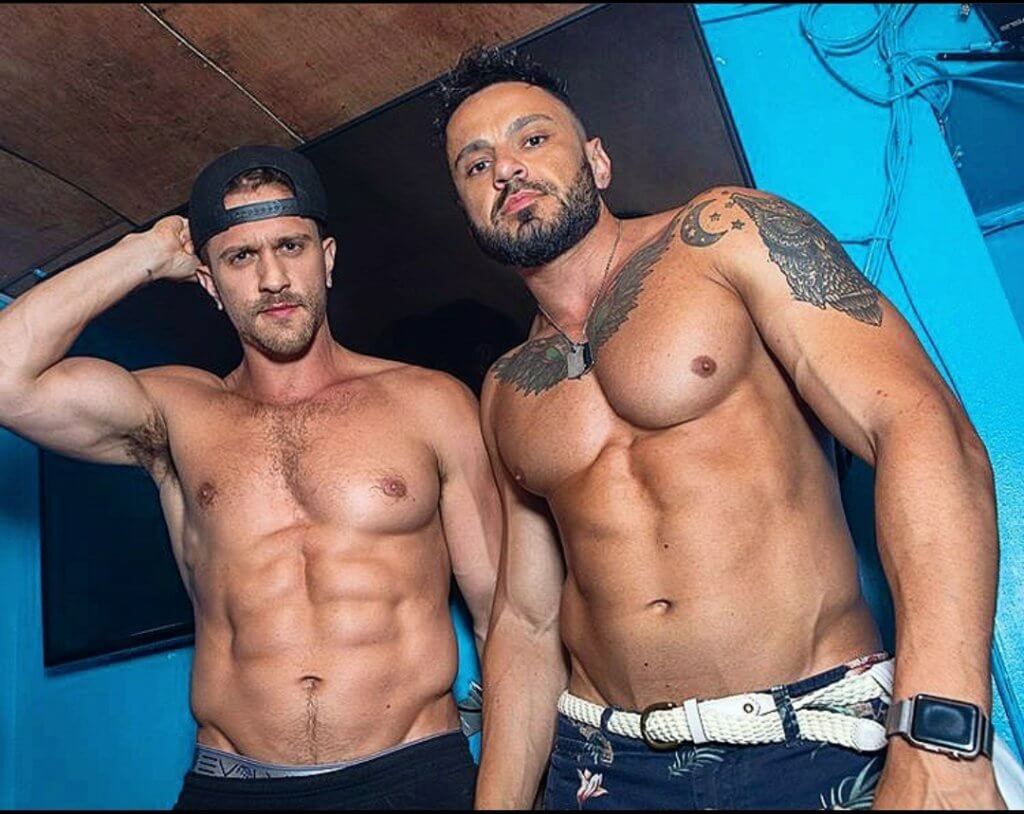 Ritz bar is another gay bar in Hell's Kitchen. It is one of the most famous gay bars in NYC. Different promoters and organizations including Mobi and YSL Events have organized parties here. Chulounderwear, a queer clothing line, has its seasonal fashion show here. Ritz is known to attract Latino gay men to Hell's Kitchen. During the coronavirus epidemic the Ritz bar has hosted a weekly party called Papitos Tuesdays is a dance party that has performances by drag persons
11. 3 Dollar Bill- huge gay bar in Brooklyn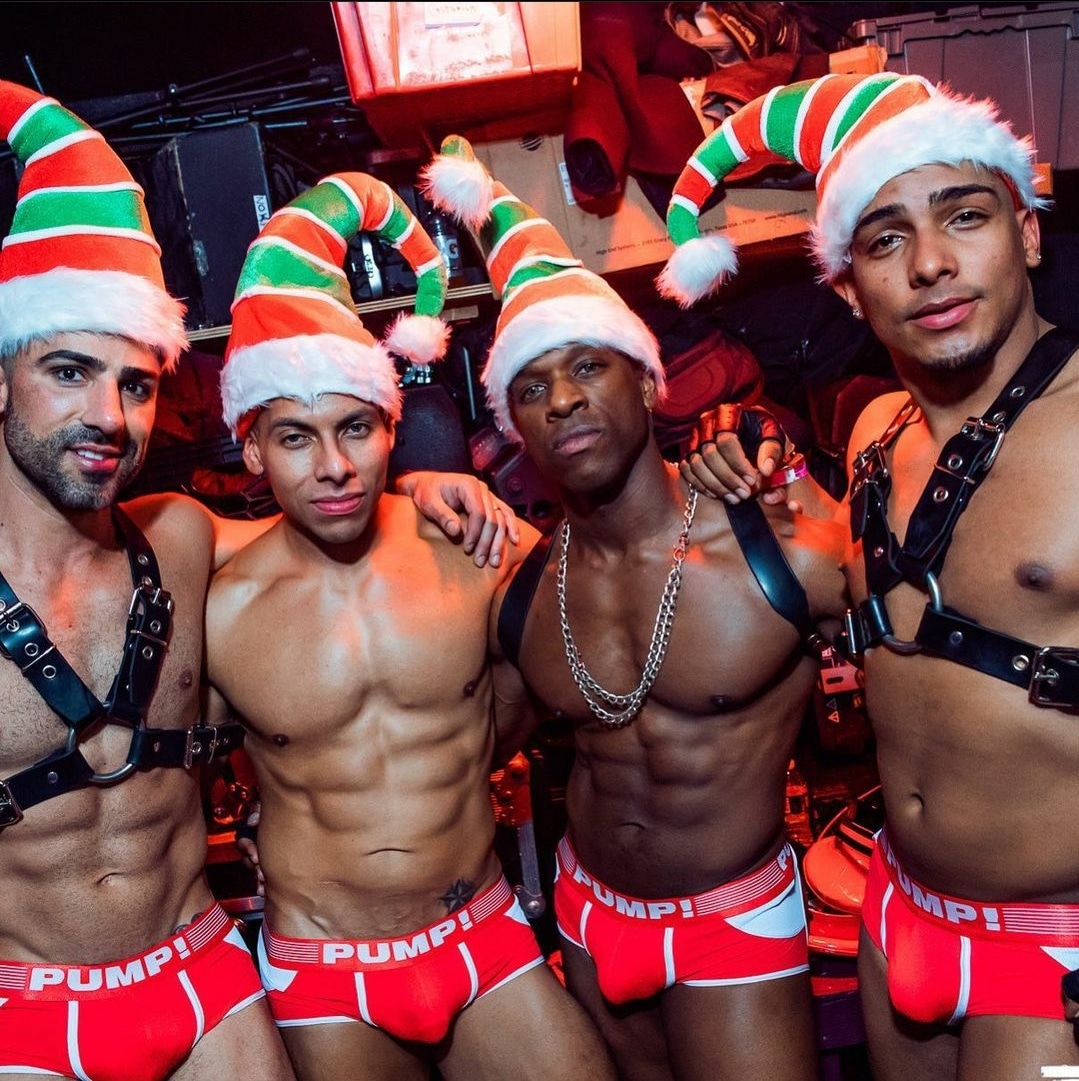 Brooklyn is a hot spot for queer bars and 3 Dollar Bar is one of them. It's located in Williamsburg which is a gay neighborhood in Brooklyn, New York.
3 Dollar is the biggest queer venue in Brooklyn with a huge dance floor. You will find all types of events there including circuit parties which are massive dance parties where a lot of house music is played, drag shows which are shows in which drag queens perform, and burlesque shows in which music performances take place consisting of comedy sketches and dances. Meat one of the biggest NYC gay circuit party takes place at 3 Dollar Bil.
The gay venue has both a big indoor and outdoor space. You would find festivals with vendors during certain times of the year. One special event at 3 Dollar Bill is "Meat" which attracts leather men.
12. Gym Sports Bar- fun gay bar in Chelsea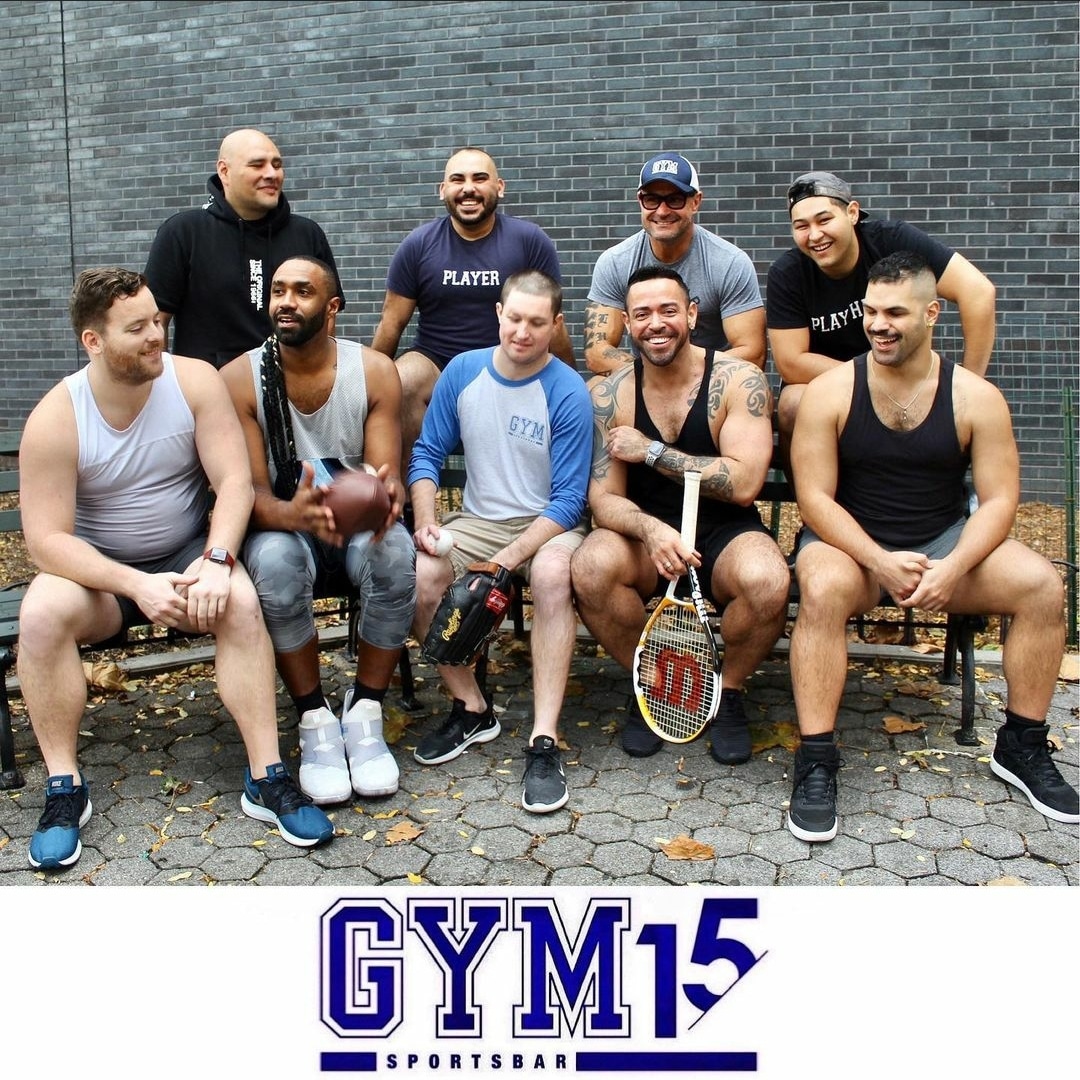 This bar brings back so many memories. I feel that every time I go here I get so damn wasted. Gym Sports Bar is probably one of the first gay bars in NYC that I've been to.
This gay dive bar has outdoor seating on a small patio that could fit a group of about 10 people or so. The inside is pretty spacious. As soon as you enter the venue you will see the bar which extends a good amount of feet. At the back of the venue are a dancing space and a pool table.
There is also a lower level of Gym Sports Bar. That section is spacious and has a decent-sized dance floor.
The crowd varies depending on the time of the day and the day that you go to the Gym Sports Bar. The last time I went was on a Thursday night and there was mostly a white older crowd in their mid-thirties and up. You do find other groups of people including blacks and Hispanics.
Gym Sports has a 2 for 1 happy hour every day on the weekdays. Just be mindful that the drinks are strong.
Just be mindful that the bartenders. In the past, this gay bar used to serve both food and drinks. I remember once having sushi at Gym Sports Bar which wasn't pretty bad and didn't get me sick either.
If you live in New York or visiting you should definitely check out Gym Sports Bar.
13. Alibi Lounge- black gay bar in Harlem
Alibi lounge is a gay black-owned business on the west side of Harlem which is an NYC gay black mecca The place is a gay space for queer people of color. The owner is Alex, a human rights attorney. I respect his passion for uplifting the gay black community and pushing to mobilize us. There has been a rainbow flag posted in front of the location. I've had a couple of events that I hosted at this establishment at the time I created my company. The place is no hole in the wall. It's chic and very clean. The venue has an outdoor backyard which is a nice space to relax if you need a breath of fresh air. In the past, there used to be nude parties (no sex allowed) at Alibi hosted by one of the former bartenders.
The only thing that used to bother me is that some of the drinks are a bit pricey. Overall, it's a cool place to go to. Fortunately, despite the coronavirus pandemic this black gay bar continues to survive. and has stayed open. They recently set up a GoFundme page to continue to remain open during the pandemic
14. Stonewall Inn- Greenwich Village
As an LGBTQ person know Stonewall Inn has an important history. The Stonewall riots happened in 1969 which started the gay rights movement. It was this movement that led to Pride celebrations in NY and all across the world.
Stonewall Inn is located in Greenwich Village(by the West Village) which is a gay neighborhood in New York City. The bar is owned by Stacy Marie Lentz. It's called the Stonewall Inn because the walls are made of stone. Duh!
Stonewall Inn still has that tavern look. The bar has wooden tables and counters. The rustic interior helps to maintain that nostalgic feeling of the gay old times.
Just like with any other gay bar in the city there is a happy hour with drink specials from 2 pm to 7 pm where you can get 2 for 1 drinks. I've been to Stonewall Inn a couple of times and the drinks are ok.
Depending on the day you may find an older crowd or middle age crowd at the gay bar. On Friday and Saturday nights, there are gay dance parties with DJs. On other days of the week, you would find a drag show from some upcoming and famous drag queens.
15. Townhouse- gay bar for wealthy men and their admirers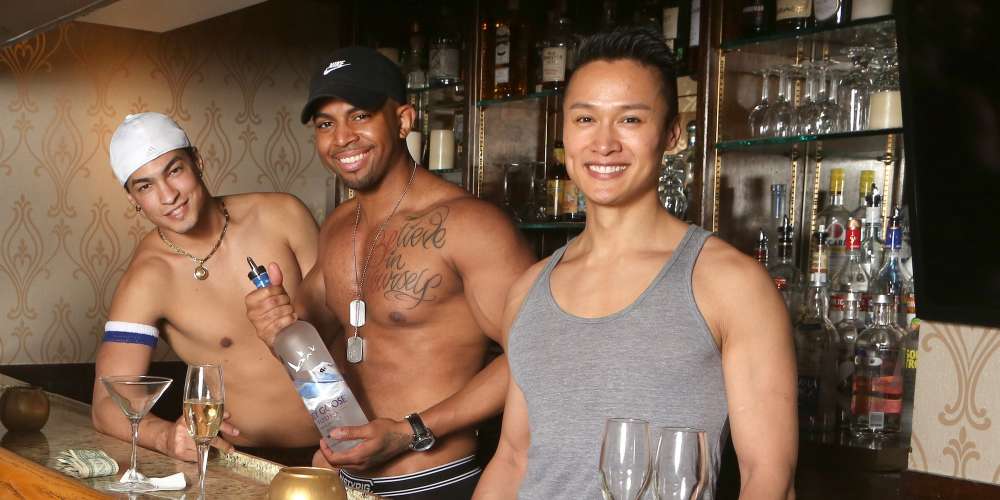 Townhouse is a gay piano bar lounge in the expensive district of Midtown Manhattan. You would some of the most expensive stores such as Prada and Bergdorfgood in Midtown. So as you would expect you would find wealthy gay and bisexual mature.
I went to Townhouse a few years ago and it did meet my expectations. The venue looks exactly as it's called which is a townhouse. When your first enter the bar there is a small lobby. The floors have a red carpet which is clean. There are several rooms in the venue including a piano room. There is an upstairs and downstairs so there is room to move throughout the venue.
16. Icon Bar
Icon Bar is another gay bar in Astoria, Queens. The venue has a small indoor space and an outdoor seating area. I went there a couple of months ago for Karaoke Night.
It's pretty spacious inside. There is a bar seating area and a medium-sized dance floor.
What I like is that there are different events throughout the week. On Sundays before the pandemic patrons would come in to watch Rupail drag race. There is a happy hour from 6 pm-9 pm for 2-4-1 drinks. Even outside of happy hour the drink prices are reasonable.
17. Flaming Saddles Saloon
If you're looking for cheap drinks come to this New York gay bar. Flaming Saddles is located in Hell's Kitchen, a neighborhood swarming with gay men.
Flaming Saddles has a daily happy hour from 3 pm to 8 pm where beer is $4 and well drinks are $5. The place doesn't have bar food but does sell a bag of Fritos with chili. The only issue is that the bar is a cash bar only.
Major cities with gay bars
Atlanta, Ga
Atlanta has a big black gay population. You can literally walk outside your home and find a black gay man just on every other block. So it's not surprising to find some lit gay parties and gay events at the gay bars down there.
Bull Dogs is one of the most popular gay bars in Atlanta. It attracts a mostly black gay crowd but you can find a mix of other groups. I went to Bull Dogs a few years ago during Atlanta Greek Picnic and boy it was lit!!
Chicago, Il
I never knew until recently that Chicago has a huge LGBT population. One of the oldest bars in the city is Jeffrey Pub. It's black-owned and has been a safe haven for the black LGBT community since it opened. This makes me feel good since there is a very small number of black gay bars across the country.
Houston, Tx
Houston is a gay-friendly city in Texas. It has more gay men than any other city in Texas. There are tons of gay bars and venues where gay guys hang out in Houston including Papi's Houston, Buddy's, and Hamburger Mary's. One of the most popular bars in Hamburger's.
Liverpool, UK
Liverpool is one of the most LGBT-friendly cities in the world. There are plenty of gay clubs and gay bars in Liverpool. One of the best gay bars in Liverpool is The Lisbon. It's cute and trendy and doesn't have the typical look of a bar. There are glass chandeliers, carpeted flooring, and comfortable chairs. The Lisbon serves both food and drinks which is a plus.
London, UK
London is one of the gayest cities in the world and is considered the gay capital of Europe. One of the gay districts in London is Soho. Think of Soho as Chelsea in New York. Soho is a gay area with gay shopping stores, gay bars, and restaurants. One of the most popular gay bars in Soho is G-A-Y bar.
Yes, G-A-Y bar. What a name gay name but it does define the venue. One thing this place is known for is having a young hip crowd. So if you're a young buck looking to dance you would definitely vibe out at G-A-Y bar.
West Hollywood, Ca
West Hollywood has a big LGBTQ community. Sunset Boulevard is a strip full of bars and restaurants that are welcoming to the community. One of the gay bars in the area is the Abbey. The place almost looks like a church
Abbey is huge! The thing I like about this gay bar is that they serve both food and drinks. There is a huge indoor area for dancing and eating and a big outdoor seating area.
Abbey is considered one of the best gay bars in the World. After going there I understood why. It's an overwhelming experience but not in a bad way. If you're in Los Angeles and looking for a gay spot to chill and hang out you definitely need to go to Abbey.
Origins of gay bars
1st white-owned gay bars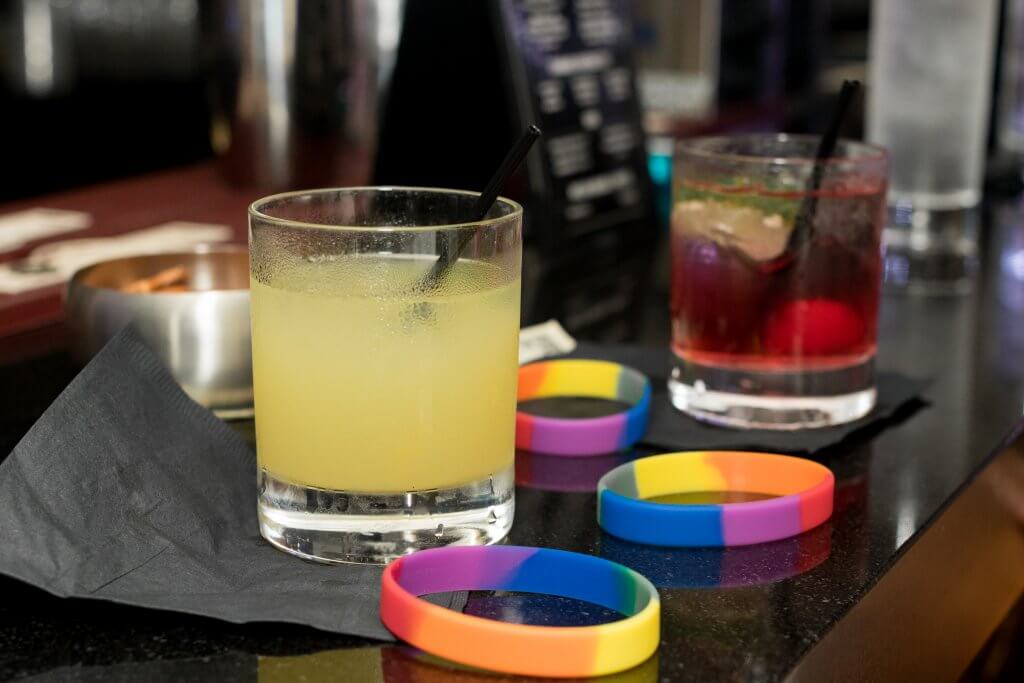 Gay bars are important because it's a safe haven for LGBT persons. In the USA there are more than 1,000 gay bars. Historically gay bars were major spaces where gay people meet as mentioned in the article, "A Gay Old Time". Anti-LGBT laws discriminated against the LGBTQ and marginalized us so much so that we couldn't express ourselves freely in public. Gay bars welcome gay, transgender, and non-binary persons.
The first gay bars in this country in the United States were The Cafe Lafitte in New Orleans, Louisiana the Whitehorse Inn in Oakland, California. Both gay bars/dive bars opened in 1933 and during that time homosexuality was criminalized. If you were flamboyant or openly gay you could be seriously hurt or killed. And so gay bars provided that sanctuary where you can feel safe and comfortable. The oldest gay bar in NYC is Julius which is located in the West Village, a gay scene in New York.
After World War II both straight bars and gay bars started to rise across the country. Here are some obvious differences between a gay bar and a straight bar. Here are some differences:
Drag performances. You'll see drag persons and drag performances in a gay bar
All types of LGBT persons. At a gay bar, you'll see persons of all genders and identities including trans, gay, bisexual, etc.
Vogueing. You'll see people vogueing and doing other similar dances at a gay bar.
The gay cruise bars included Wild Side West in San Francisco, Pied Bar in Provincetown, the Rail in San Diego, Ziegfield's/Secrets in Washington DC, and countless others. These places held drag performances, nude male shows, happy hours, and other events. Gay men could drink their beer and cocktails and flirt with other men and not feel ashamed. More importantly, the gay bars were safe havens for the LGBTQ community.
The formation of black gay bars
Even though gay bars were supposed to be welcoming to the LGBTQ community some of them really were not. And I've actually heard of this before COVID and even seen this myself. The issue with many gay bars was the discrimination and racism against people of color, especially Latinos and African Americans. Despite the gay rights movement during the 1960s black queer men were overshadowed by white gay men. Gay black men often had a difficult time simply getting into white-owned gay bars. There were strict dress codes that even happen now to prevent large crowds of African Americans and Latinos. And so, black gay bars were created as spaces for black queer and black transgender persons to interact and network with each other.
Black gay bars were not only entertaining spaces but places of refuge and social action. During the AIDS crisis, many black gay bars like Jewel's Catch One and ClubHouse in DC held fundraisers and did outreach to combat the HIV/AIDS epidemic.
One of the first black gay bars was the Starlite Lounge located in Brooklyn, New York. This was a special space for the black LGBT community since it was non-discriminatory and welcomed both straight and LGBTQ persons. The venue was owned by Harold Harris and lasted from 1962 to 2010.
There were many other black gay bars in NY AND in other cities outside of New York City during the 1970s including Brass Rail in DC, Jewel's Catch One in Los Angeles,
One of my first experiences with other gay men was at a black gay club called Langstons in Bedford Stuyvesant, New York. Back in the day, this was the spot. It was such a great feeling. I was able to freely express myself and could flirt and dance with guys without having to worry if they were gay or not. A lot of my female straight friends said they would feel comfortable being at a gay bar or a nightclub because people are there to have fun and enjoy themselves. Now, I do admit there are some weird things you'll see at a gay bar like public urination or a couple of guys in one stall.
State of black-owned gay bars
There is a crisis of black-owned gay bars. Over the past decades, dozens of black gay bars have closed in New York City and many more continue to shut down at a fast rate. One bar that I truly miss is No Parking in Washington Heights. It was a very small bar but the experience gave me so much life. Just last year another black gay bar, Club Langstons, in Harlem closed down.
In other major cities across the country, black gay bars have been closing. In 2015 Jewel's Catch One, one of the oldest black gay bars closed down. This was a huge loss for the black gay community since that venue was the center of black gay nightlife in Los Angeles.
In general, gay bars are disappearing especially because of COVID. Due to lack of indoor dining, a lot of gay dive bars haven't been unable to get the traffic they normally would. Alibi, one of the last blacked owned gay bars in Harlem has created a GoFundme page asking for more than $100, 000 in donations to survive COVID. Lambda Lounge, Harlem's other black-owned gay bar is also struggling financially.
Fortunately, there are some black gay bars still around such as Alibi in Harlem, Jeffrey Pub in Chicago, some black gay bars have opened despite the coronavirus epidemic. For instance, Williams Inn Pizzeria and Sports Bar opened in Chicago, Lambda Lounge opened in New York City.
What's the best gay bar to meet rich men?
The best gay bar to meet rich men is at the Townhouse. The bar is located on East 58th street which is a rich district. I've been to this place once and it is the real deal. There are several rooms inside the venue, including a piano bar with an actual pianist. Of all gay bars, I've been to Townhouse has had the most wealthy businessmen in one location. If you're looking for a sugar daddy this is the spot to go to.
How do you get noticed at a gay bar?
Men are very visual. To get noticed at a gay bar you should dress and look appealing. You don't have to wear anything expensive. Just make sure you wear something fitted and put on a color that stands out like red or lavender.
Another way to get noticed at a gay bar is to be open and receptive. That means you should walk around with positive energy. Dance and go to the bar to enjoy yourself and have fun. If a guy approaches you be nice towards him even if you're not attracted to him. Some people pick up energy real quick so if you're unhappy and upset you'll make yourself very unapproachable.
Other places to meet black gay men
Besides the only two black gay bars in NYC, there are several other ways you can meet black gay men besides going to the West Village or East Village. You can meet them face to face by going to restaurants, LGBT centers, and other gay-friendly establishments. You can also meet online through social and dating apps like Tinder and Match.com.
As I mentioned above there are all sorts of places where you can meet gay men. One thing I would advise you is to be careful of meeting men online. If you use an app like Jack'd or Grindr be extremely cautious.
Wrap up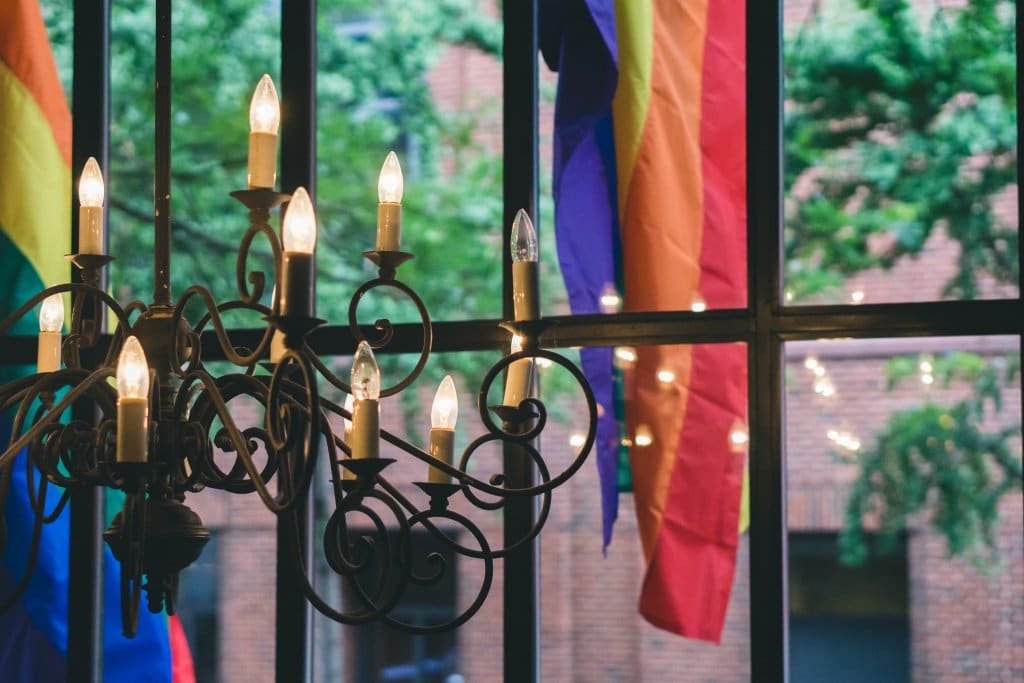 I just highlighted the 17 hottest gay bars in New York NY. Fortunately, some of these gay bars have closed down due to COVID-19. There are plenty of other LGBTQ gay bars like Rise Bar, Club Cumming, Barracuda Lounge, Boiler Room, and Industry Bar. At these spots, you can watch drag shows, listen to live music, and twerk on the dance floor. You can even go to a lesbian bar like Henrietta Hudson and find a cutie.
There are gay travel destinations like West Hollywood, San Francisco, and Chicago with a good LGBT scene but New York City stands in its own category. You'll find some great spots in East Village, Midtown West, and Midtown East to connect with the New York City gay population.
There are other ways outside a dive bar where you can still listen to live music, attend Rupaul drag race parties, and have other amazing experiences. If you're looking for New York's hottest gay spaces, gay travel guides, or gay tours subscribe to my blog.