Halloween is one of the most celebrated holidays, especially for gays. In this blog post, I will talk about upcoming Halloween black gay events.
Halloween is lots of fun for all types of people: women, heterosexual men, homosexual men, kids, etc. The holiday is especially fun for the gays because it gives us a chance to dress up as our biggest fantasy and not feel judged. In this blog, I will discuss some of the hottest Halloween black gay events to attend.
5 deadliest & sexiest black gay Halloween events
New York
P-Valley by Joe Morris Events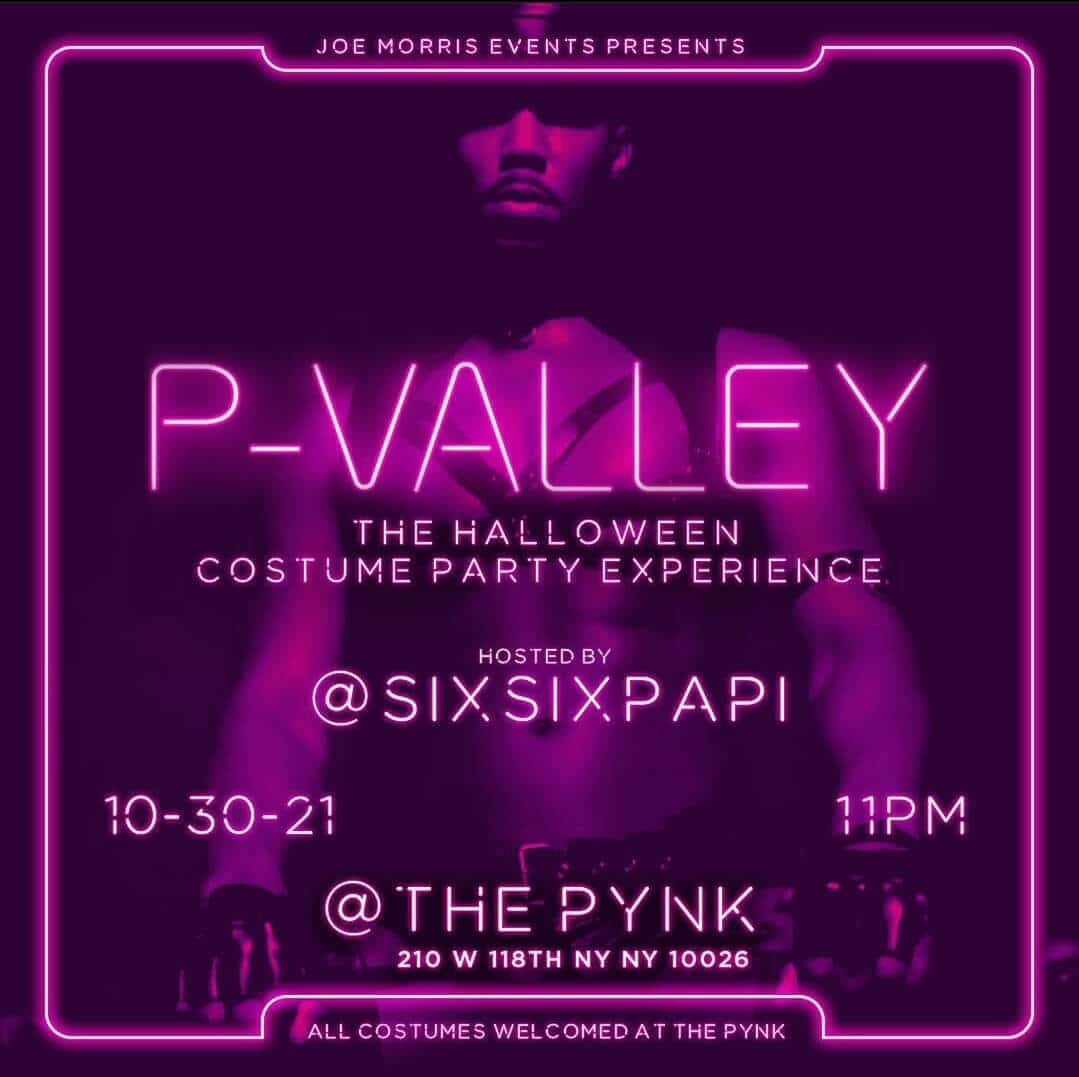 There will be a couple of Halloween black gay events in NYC. One of them is P-Valley. It's a nighttime party on Saturday, October 30th that will take place at The Pynk which is located in West Harlem.
The main organizer of the party is Joe Morris. He's a black gay event producer/party member. He began throwing parties around 2017 when he was in the duo Itboys. Itboys first event was a brunch day party which was a huge success. Over the years the group has thrown some of the most exciting events including day parties and happy hours. Unfortunately, Itboys stopped doing events and Joe began his solo venture.
What I like about Joe Morris is that he brings the sex black gay trendy, elevated crowd to his events. I've gone to events and have always enjoyed myself. And so I know the P-Valley party is going to be lit. The party will be subpromoted 4 other black gay influencers. The party will be a sellout especially since it's in Harlem which is a black gay mecca. In only 3 days 50 were sold so buy your tickets soon. Early bird tickets are $30 and go up to $40.
Blow by Exec Events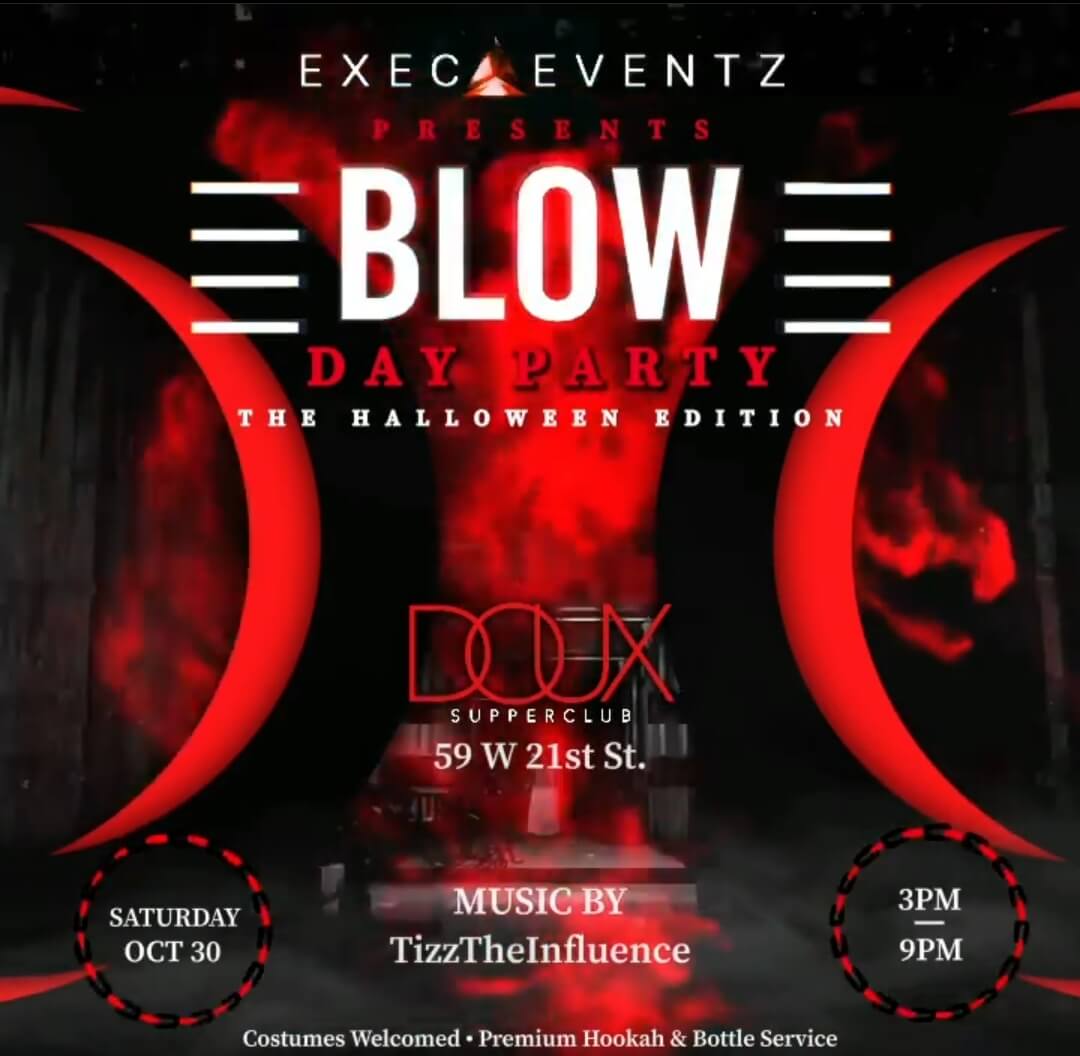 Another Halloween gay NYC party for the black queer community is the day party Blow. Now the name sounds suggestive but it's not a hookup or bathouse party. It's a dance party at Doux Supper Club which is a nice bar in Manhattan.
Exec Events is throwing the party. They are a duo that has thrown some lit-ass parties. Like Joe Morris, they are known for bringing out the swaggy black queer men to their functions. You would see guys laced out in Gucci outfits and Balenciaga sneakers.
Blow will definitely be a fun event. I don't really dress up for Halloween or even go out during that time. But Blow will definitely be a reason to hit the streets. Tickets are free before 4:30 pm and go up to $20.
Manic Mania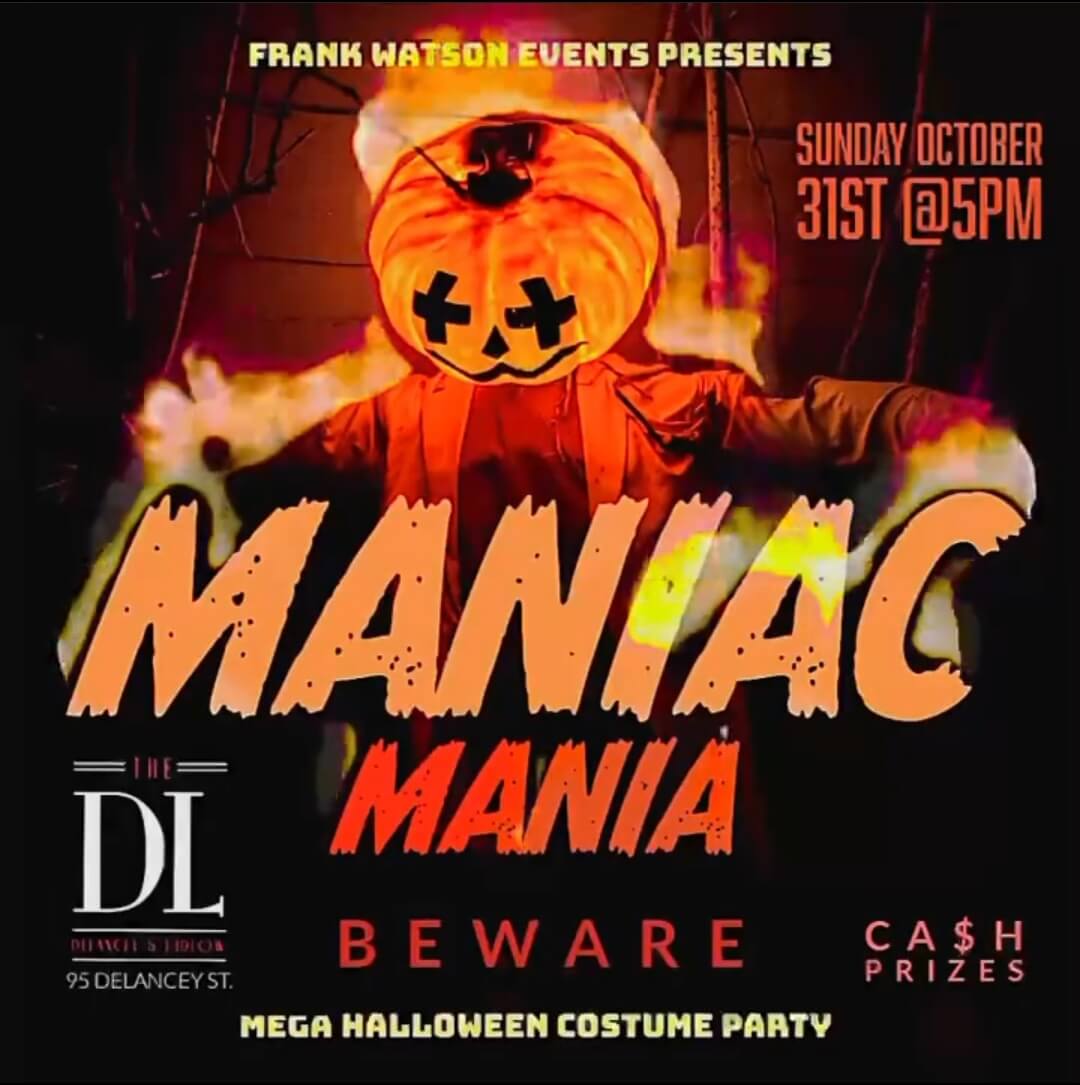 Manic Mania will be another great Halloween event. It will take place on Sunday, October 30th at the DL which is located in the lower east side. The event is hosted by mega black gay promoter Frank Watson.
Frank Watson is like the kingpin of the party scene. I'm pretty sure just about all of the social queer black folks have gone to at least one of his parties. Frank Watson brings out hundreds of persons to his events. Rain, sleet, or snow his events are always lit.
Frank Watson's Halloween event will be packed. He usually throws his day parties at the DL which is the same venue for Manic Mania. It's going to be packed and hot so I advise you to not wear too heavy of a costume.
Washington DC
Obscene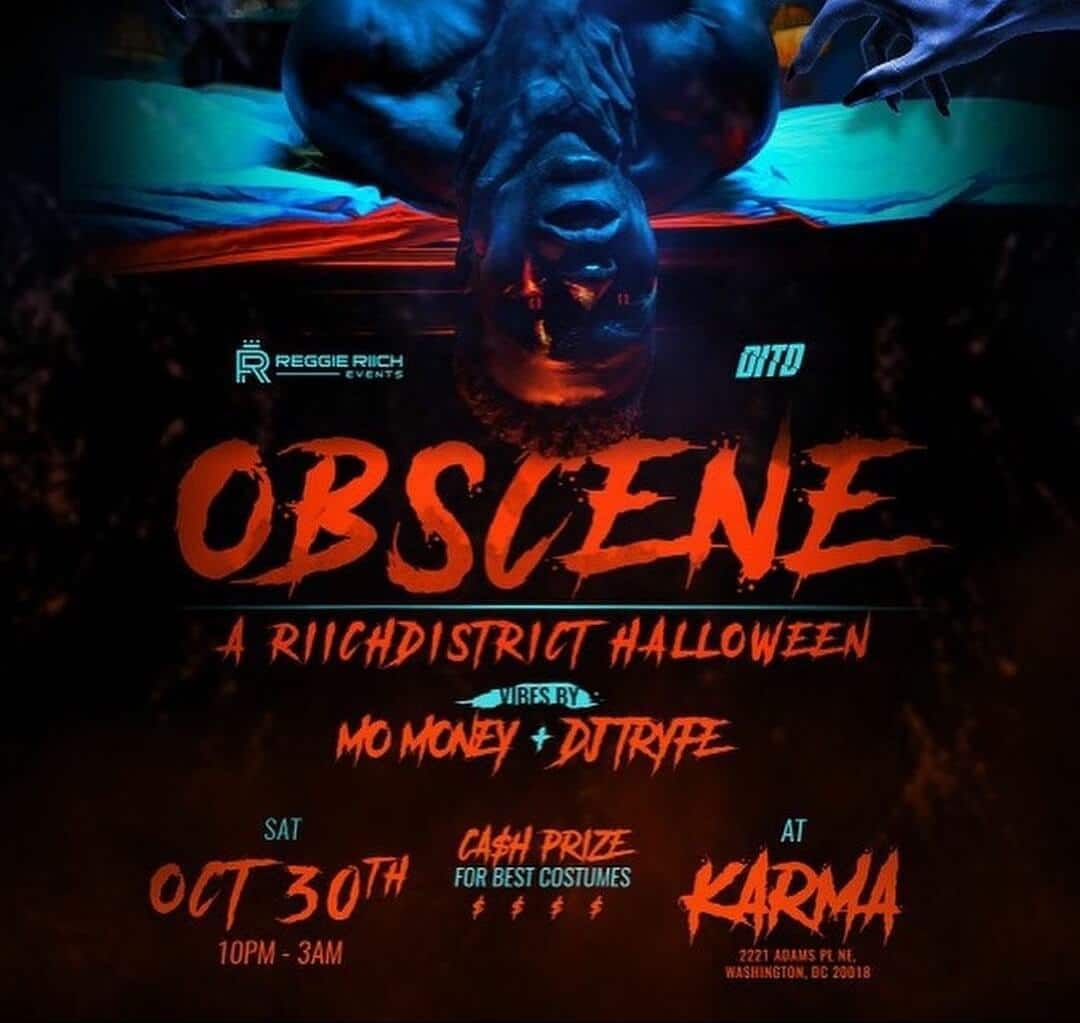 DC is a city flooded with the bougie black gays. So you're definitely bound to find a good Halloween party. On Saturday, October 30th promoters Reggie Rich and Day in the District will be hosting a night party at Karma.
Reggie Rich and Day in the District are two of the biggest black gay event producers in the DMV. They are known for bringing hundreds of sexy black queer men to their events. They've thrown day parties, happy hours, and brunches.
The Halloween party that Reggie Rich and DDIT will be hosting is a guaranteed sellout. DJ Tryfe and Mo Money will be on the 1's and 2's. I've been at a day party and listened to DJ Tryfe deejay and he's not bad at all. Make sure you buy your tickets online early so you won't be paying a lot at the door.
Atlanta
Superheroes versus Villains
Atlanta has a huge black gay social scene. During any time of the year, you'll find some popping events to go to. I was last in Atlanta a few years ago for Atlanta Greek Picnic and had a good time. I went to a few gay bars and let me tell you. The "girls" be out.
As in many other gay cities, Atlanta is popping up during Halloween. There will be plenty of events going on. One event you should go to is Superheroes vs Villains. It's an annual party hosted by Atlanta's biggest Black LGBT promoter Rockstars Production. The event will take place at the Cosmopolitan. Rockstars know how to bring out the crowd so make sure you get your tickets early in advance so that you don't pay inflated prices.
New Orleans
New Orleans Gay Halloween is expected to be a lit event. New Orleans is one of the most LGBT-friendly cities in this country. So expect to see a massive crowd flooding the streets.
Why do the gays love Halloween?
Growing up as a closed dl gay I was secretive. I never could be my full sense because I was hiding my sexuality. Now that I'm out of the closet I feel better being myself. There are some occasions on which I feel better about my gay identities such as National Coming Out Day and Pride Month. During those times queer persons like myself and other LGBTQ persons can march out on the streets and express themselves freely without feeling shame and guilt for who they are. One holiday that makes us makes us feel welcomed is Halloween.
Most people think of Halloween as a time for people to go out in costumes, trick or treat, and go to some lit ass parties. But for some groups of people, the holiday is more than that. Halloween is a time when LGBTQ persons can feel that they can be their authentic selves. On a daily basis many people, whether heterosexual or homosexual, wear social masks. A social mask is pretty much a facade so you won't feel judged. As a black gay man, I felt like I have to hide my femininity and have to be overly masculine to the point that I'm being warped into toxic masculinity. Other queer men and transgender have to always hide their identities to protect themselves. In countries like Ghana and Guyana, there are anti-LGBT laws that ban same-sex relationships.
Halloween allows people to feel a sense of comfort and security. This may sound like a reach but it's almost like a liberating holiday. The Halloween parades in the West Village are a prime example. I've never been to any of them but I've heard they get packed and are full of people cross-dressing, drag performers, and queer persons wearing makeup. These parades started after the Stonewall Riot of 1969.
Halloween gay costume ideas
If you're looking for a Halloween costume one of the places you can go to is Rubies. It is the WORLD's largest designer of Halloween costumes. Sof if you're looking for a creative costume or a costume from a specific tv show or comic book I can guarantee you that you will find it at Rubie's. They even sell interesting costumes for dogs and puppies like Darth Vader and Superman. I actually bought my Robin costume at the venue which is still in good condition. You can purchase a costume online or you can go to the store in Richmond Hill, Queens.
There is always the other option of designing your own costume. I've seen people do that in the past and for some, it works. Others, well, not so much so.
Wrap up
Halloween is a great time for the gays. During that holiday we can go against heteronormative norms and express our sexual identity. It's a time when we can dress up in colorful wigs, wear makeup, and put on outrageous costumes.
If you would like more information about gay events subscribe to my blog.