Do you get tired of hearing music with homophobic lyrics? Check out this blog post of black gay rappers and singers living their truth.
I love listening to music. When I hear a certain rap song or R&B tune I feel like I'm entering a certain zone or going back in time. It's especially delightful to listen to songs by black gay musicians. In this blog post, I will discuss gay rappers and singers living their truth.
Hottest black gay rappers and singers
Lil Nas X
Lil Nas X is killing the scene right now. He's a young black gay artist that has taken the world by storm and is one of the most recognized gay rappers of 2021. Honestly, I don't really like him lyrically. I'm more into street rappers like Nas, Fabolous, and Jadakiss. But as a performer, I definitely have to give him his props.
Lil Nas X whose real name is Montero Lamar Hill is from Georgia. From an early age, he got into music. When he was in the 4th grade he was playing the trumpet. He went to pursue a musical career in college and attended the University of West Georgia. However, he only stayed for about a year.
He struck stardom when the song "Old Time Road" with him and Billy Ray was released. That song was so popular that both adults and even preschoolers were singing and dancing to it. It was on the billboard for about 17 weeks which is a historical moment. What made the song so unique is that it was a mixture of hip hop and country that fans of both genres could relate to.
Another highlight of Lil Nas X's career was his gay rap song, Montero. In the music video, he was having an intimate session with the devil. Honestly, I couldn't really watch the whole video because I really didn't like that intimate interaction Lil Nas X had with the devil. I do understand what he's trying to accomplish with the video which was to make queer stories more commonplace in today's music.
Lil Nas X has another awe-struck moment with his performance at the BET awards last month.  He performed the song Montero which got everyone including, the "girls" heads rolling.  At the end of the performance was a gay kiss.  It was so unexpected and so intense that you thought there was going to be a gay hookup on stage.
Frank Ocean
He's another well-known music artist. I love R&B and definitely enjoyed listening to his songs. He's not your typical R&B artist. He's not very sensual and looks like the average person. What I like about his music is that covers a wide variety of themes including heartbreak, loneliness, and dealing with his sexual orientation.
Frank Ocean's real name is Christopher Edwin Breaux. He was born in California but raised in Louisiana. Christopher started his musical career after college. He went to the University of New Orleans for about 1 year but dropped out and moved to Los Angeles in 2006 to pursue music.
Christopher's road to success wasn't the easiest.  He worked tons of fast-food jobs to support himself.  Before becoming a solo artist he was part of a group called Odd Future which included another SGL rapper Tyler the Creator. Eventually, in late 2009 Christopher branched out on his own after he signed a deal with Def Jam. During that time he wrote for celebrity artists including Justin Bieber and Brandy Norwood.  He also changes his name to Frank Ocean.  He got his inspiration for the name from the movie Ocean 11.
In 2011 he started to gain fame after he released his R&B mixtape Nostalgia, Ultra. This mixtape was different from the typical R&B mixtape in that it mixed all genres, even rock & roll.
Big Fredia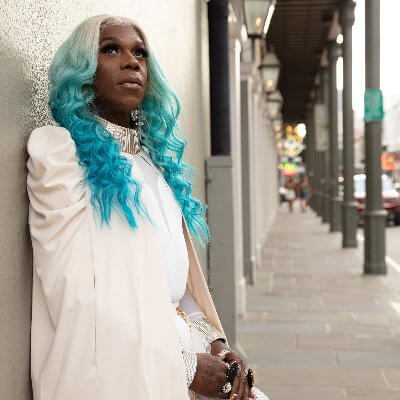 If you like bounce music you would love Big Fredia. Big Fredia is a rapper from New Orleans which is the birthplace of bounce music. Big Fredia does wear makeup and wings but has said that she's not transgender but is a gay woman.
Big Fredia whose real name is Freddie Ross was born and raised in Louisiana. From a young age, Fredia was into music. She sang in the choir and played the piano. Fredia got into entertainment around 1999. She performed as a background singer for Karly Red another music from New Orleans. Fredia eventually broke out her own and became one of the hottest bounce music artists.
If you haven't you need to see Big Fredia perform. I see her perform during DC Black Pride a few years ago at this huge lounge and enjoyed her. She was very energetic like no other artist I have seen perform. I gained more of a respect for bounce music after her performance.
Tyler, the Creator
This guy is a mix of talents. Tyler, the Creator whose real name is Tyler Gregory Okonma is a rapper, producer, and songwriter from Los Angeles, California. He has performed in major music festivals and on popular tv shows like Late Night with Jimmy Fallon and Jimmy Kimmel Live.
Before Tyler became a big solo artist he was in a group called the Odd Future. The group contained different music artists including Syd Tha Kyd and Frank Ocean. Like some other music artists, he gained popularity through Tumblr back when it was a thing. He released his first album Bastard in 2009 and then released a few other albums throughout the years.
Cakes da Killa
Cakes da Killa whose real name is Rashard Bradshaw is a queer hip-hop artist from Teaneck, New Jersey. He's openly gay which I respect. His style is a mix of flamboyant and trade. What distinguishes him from a lot of other commercial hip-hop artists is that he mixes rap with electronica and house.
Cakes grew up listening to hip-hop music but listened to other genres of music as well. Despite the hip-hop industry being homophobic Cakes felt comfortable as a queer artist. As Cakes mentioned in an interview on VladTV he came out as homosexual in 3rd grade.
Cakes came out with his first album The Eulogy in 2013. He came out with another album 3 years later. What I like about his music is that his lyrics are animated and fun. He doesn't promote drug dealing or gang violence in his rap songs. And even though his content is light-hearted the way he spits and freestyles is hardcore. One of my favorite raps from him is Don Dada.
6. Taylor Bennett
Taylor Bennett is a bisexual rapper. He is the brother of Chance the Rapper, another big rapper. Taylor has been on tv and performed at major festivals including Governor's Ball and Complexcon.
Taylor was born and raised in Chicago, He started rapping in high school and became popular after he released his mixtape The Taylor Bennett Show in 2014. Since that time he's been big in the music scene.
Young Ma
In my blog posts, I love to focus on black gay men. They are my heart. But I had to put Young Ma on this list. She's a female lesbian black rapper from New York and spits like a goon.
Young Ma aka Katorah Marrero is from my hometown of Brooklyn. Shout out to that borough! She was born in East New York which is one of the most dangerous areas in Brooklyn (trust me, I know). For the sake of a better life Young Ma's mother moved her and her brother to Virginia for a better life.
Young Ma has been rapping since the age of nine.  Her mother and uncle also rapped but they never took it at the level as Young Ma.
I love Lil Kim and Megan Thee Stallion who are considered some of the nastiest rappers. Young MA is different from those rappers in that she's much rougher around the edges.
Hands down Young Ma is one of the best gay girl rappers out right now.
Impact of gay liberation on music
The Stonewall Riots is an important part of LGBTQ history. It sparked the gay liberation movement which encouraged gay rights. Those rights meant that gay, queer, and especially transgender persons could go to bars and other venues without being harassed and persecuted. The movement also meant that anti-LGBTQ laws like the ban on same-sex marriage and "Don't Ask, Don't Tell" would eventually be reversed. Another good thing about gay liberation is that it encouraged gay music which focuses on the lives of queer persons.
Why do we need gay rappers and singers?
The music industry is traditionally full of heterosexual men. And just like any other industry or field homophobia is common. Fortunately, homosexuality has become more acceptable and there are more openly gay music artists. However, within hip hop being gay and or bisexual is still taboo.
Hip hop has always promoted a machismo culture which is men being masculine and hardcore. That also means being attracted to women. And so, being gay was against the norm. Men who are attracted to other men have been considered outright nasty and disgusting. Furthermore, in hip hop gay men are labeled as "faggots" and "weak". Though there are some flamboyant gay men there are a lot of gay men that are very reserved. Nonetheless, gay males are oftentimes disrespected and seen as a disease. Gay women on the other hand are considered hot. Even the butch-looking females don't really get the backlash that homosexual men by rappers.
From what I recall one of the first gay rappers was Caushun who's from Brooklyn. But being that he was so flamboyant I didn't listen to him. I grew up listening to rappers like Nas, Eminem, and Biggie whose songs I did enjoy. At the same time, I was bothered by some of the homophobic messages and lyrics in their songs. In his song "Ether" Nas called Jay-z a "fag" which is the worst insult you can say to a gay person. In queer culture, there are gay men who call other gay men "faggot'. But for a straight man to call another gay man "fag" is condescending. And I've heard just about every rapper use that word at least once.
It wasn't till the 2000s that I've seen the change in the hip-hop industry. When I saw Eminem go on stage with gay icon Elton John and hold his hands I knew times are gradually changing. This was a shock knowing that Eminem threw so many anti-gay slurs like he was getting paid for it. Since that time more bisexual and gay rappers such as Mykki Blanco and Azealia Banks have been coming out of the closet. I give a lot of praise to these new school rappers because back in the old days you would have been totally roasted. Now, we're in an era where non-binary, transgender and gay persons are more accepted by their peers. Hopefully, there comes a time when LGBTQIA persons are fully accepted by the hip-hop community.
Wrap up
The gay rappers I listed above give us gay music which is music that relates to queer culture and queer lifestyle.
I love listening to my favorite straight artists Nas and Papoose both of whom are lyrical geniuses. I even enjoy some music by the freaking rappers like 2Live Crew and Plies. Even though I enjoy their music at certain times I can't relate to them because they are heterosexual men. When I listen to music by black gay artists I get that missing connection. Listening to songs by gay rappers like Cake Da Killa and Lil Nas X reminds me that we black gay men can have a place in this world to use our voice and be who we are.
For more information on black gay celebrities and influencers please subscribe to my newsletter.