Are you gay and looking for fun spaces to eat and connect with like-minded individuals? Find out about the hottest brunch NYC spots.
Brunch traditionally is a meal after breakfast and usually ends around 5 pm. Over the years brunch has evolved into festive occasions including drag brunches, bottomless brunches, and brunch day parties. For the LGBTQ community, we especially love brunch because it allows us to escape reality and at the same time enjoy a good meal.
19 Best Gay-Friendly Brunch NYC Spots
Kween
Kween is a new gay restaurant in Astoria that opened earlier this year. It's located on 30th Avenue which is a popular strip but this bar definitely stands out from the other bars on the block. The owner has prior restaurant experience which is pretty obvious when you walk into the restaurant. The venue has such beautiful decor. There is purple lighting which gives a sexy and intimate atmosphere. In the back of the restaurant, there is a high-back chair which adds to the restaurant's theme of queen royalty.
During the week there are several events at Kween including Taco Tuesday and Fiesta Latina Saturdays, a gay dance party for Latin music lovers. One of Kween's biggest events is their drag brunch. The drag brunches happen on the weekend and include different drag performances. What's cool is that audience members are allowed to showcase their talents and walk.
There are several reasons why I love this spot. First, it's located in Astoria, Queens. Often, I would have to travel to NYC for drag brunches and parties. Kween has a mix of Manhattan party vibe and intimacy.
One of the best aspects of this restaurant is the food. A lot of brunch spots are hit or miss when it comes to food. But this spot has amazing food. If you're looking for delicious food and good drag performances come to this gay brunch spot.
Brunch2Harlem
Brunch2Harlem is an upscale restaurant in Harlem that used to be B2Harlem. with just a single owner, Adriane Ferguson. Black gay event producer Joe Morris is now a co-owner. What's unique about his venue is that it's black queer owned and that brunch is served all day and night.
The restaurant's interior looks sophisticated and stylish. The floor has beautiful ceramic tiles with a black-and-white pattern. The wooden chairs look new and there is a brown leather sofa where you can eat. Even the bathroom has beautiful decor.
If you're a member of the LGBTQ community you would definitely feel at this brunch spot. I've been here a couple of times, including during NYC Black Pride Weekend, an LGBTQ festival for gay communities of color. Drag brunches have taken place here with some of the most popular drag performers in New York. Now, Joe Morris has thrown his weekly famous black gay brunch event, "For the Culture" at Brunch2Harlem.
The food at Brunch2Harlem Harlem is pretty good. There is a good selection of brunch food including chicken and waffles & steak & eggs. I've been there for a brunch a couple of times and have enjoyed myself. I've had the shrimp and grits which was decent. I like their pineapple mimosas which have a nice blend of juices and alcohol.
Angel of Harlem
Brunch at Angel of Harlem is the true definition of a lit brunch. The venue is within walking distance from the West Harlem-125th train, a major transportation hub, so it's easy to travel to even if you're unfamiliar with the area. It's one of the most popular spots in Harlem and is always packed on the weekends. DJ Max Damian, a popular DJ within the party and social scene, plays here on Sundays and knows how to move to the crowd by playing some of the best and the latest hip-hop, r&b, pop, and reggae tunes.
What's best is that it's a safe and fun space for all groups of people, including the LGBTQ. The crowd mostly consists of people from their mid-twenties to 30s. The only drawback to Angel of Harlem is that it doesn't have a large dancing area. Despite that fact expect a grand time here. You'll find people dancing and twerking on the dance floor and couches. As far as the menu selection I can say that the food is ok and reasonably priced. My suggestion for brunch is chicken and waffles.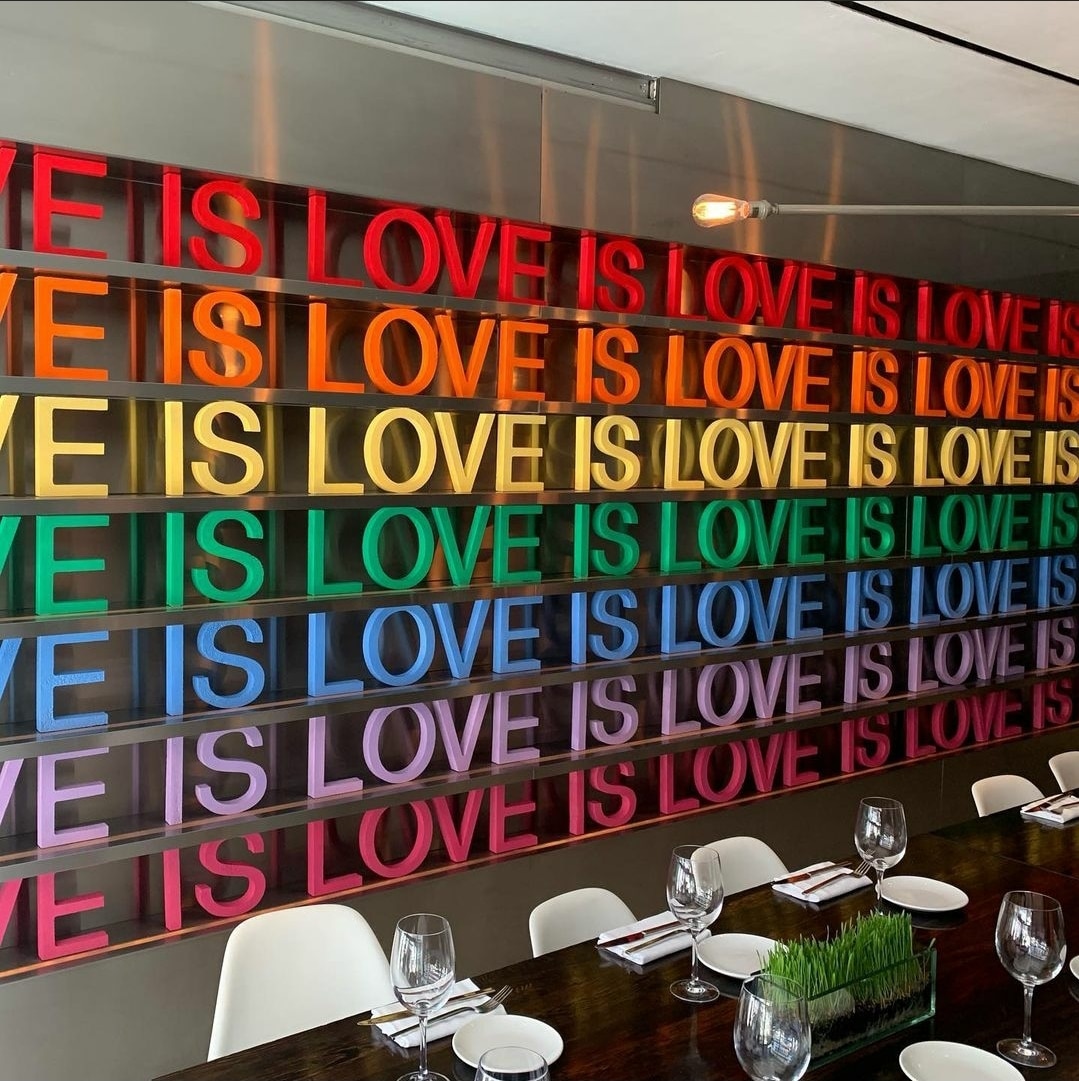 Cafeteria is a popular diner in Chelsea, a popular neighborhood full of gay men. It's different from your normal diner in that it's very trendy. The awning has a modern look that resembles other fancy restaurants in the area. Inside the restaurant, there is a nice, sleek seating area and a clean bar with bottles perfectly placed on the shelves. Even the bathroom has nice decor which resembles a hotel bathroom.
I've been here for brunch with my fraternity brother and have enjoyed myself. The meatloaf is good and will fill you up. The food prices are decent for Manhattan prices so you shouldn't break your arm and leg for the bill.
Cafeteria doesn't have a party atmosphere but is a good spot to socialize and meet other people. What I like best about Cafeteria is that you'll find some very sexy and attractive men here. If you're looking for a cute vibe in Chelsea come out to this gay brunch NYC spot.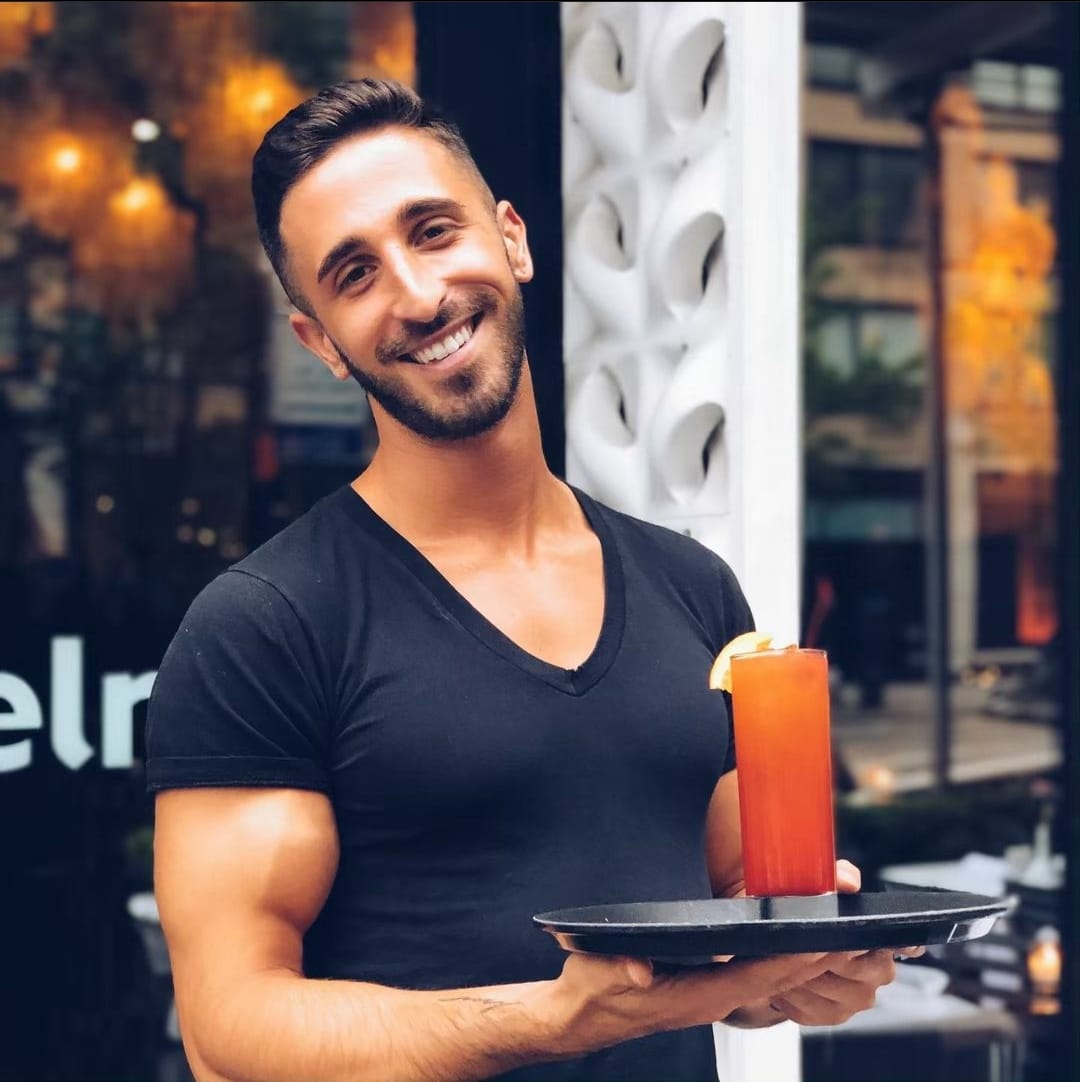 Elmo is another fancy restaurant in Chelsea, a popular gay neighborhood. This is probably one of the most uppity gay brunch spots on this list. I love the way the restaurant is set up!! Elmo has a top floor and a bottom floor which can be reserved for private parties. On both floors, there are regular seats and comfortable sofas to eat on. The food is ok and the drinks are good.
If you're looking to meet other gay men this is definitely the spot to go to! You'll see crowds and crowds of gay men here. There are a lot of gay bars and gay lounges in Chelsea so if you decide to party Elmo is a good place to eat and pregame.
Harlem Food Bar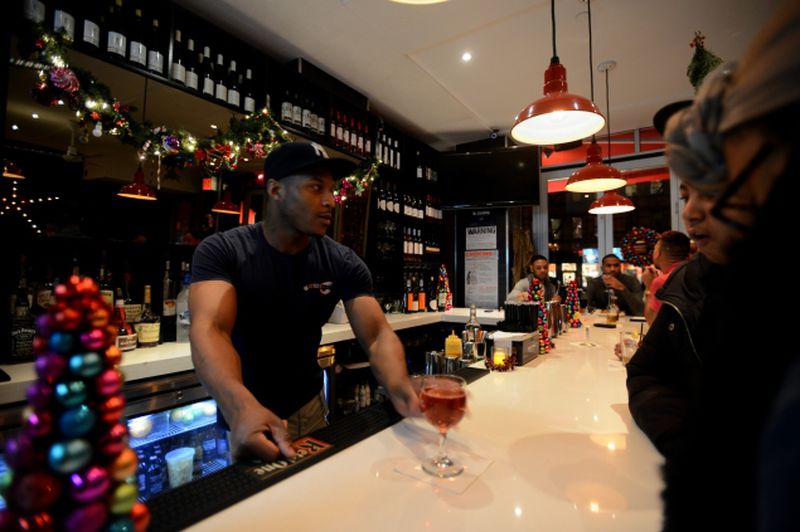 Harlem Food Bar is a small and intimate spot in Harlem. The decor is artsy and trendy. Even in a city like this finding, a cluster of black gay men can sometimes be hard to find but you'll often see gay black men here. I've been here a couple of times and always enjoyed the vibe. The space is small but gives an intimate feeling. The bartenders are cute and friendly. The food is ok and the prices won't hurt your wallet. If you come here for Sunday brunch make sure you get the bottomless mimosas.
Lips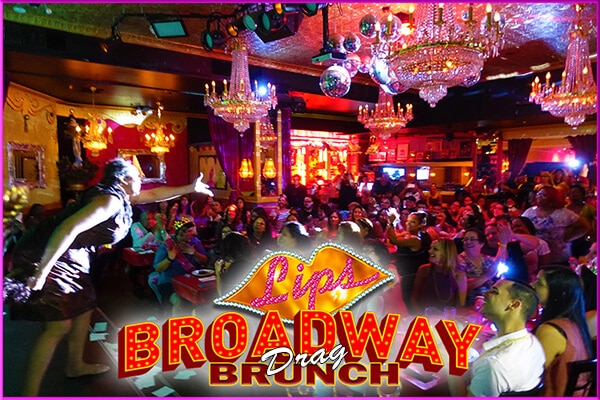 Lips is a franchise with locations all over the country, including Atlanta, Chicago, and New York City. The restaurant is owned by drag queen Yvonne Lame famous for its drag brunches. A drag brunch is a type of show where drag kings and drag queens perform in front of an audience during brunch time. Drag queens are usually men who impersonate women and drag kings are usually men who impersonate women. At a dag brunch, you can expect comedy, dance routines, and lip-synching. As far as the dress code you can pretty much wear anything you want.
I remember my Delta sandz invited me to Lips years ago. At that time I didn't know what the restaurant was about until the day of and heard those drag performers would be there. I was livid and I didn't want to see any drag performances and didn't want to be in sight of any drag queens. I matured and learned to accept them and see how creative and talented many of them truly are.
Lucky Cheng's Drag Cabaret
Lucky Cheng's is another popular drag brunch establishment in New York City that's been around since the 1990/s. It's located in Midtown at 707 8th Avenue. On Saturdays and Sundays at about 1 pm, they offer a bottomless brunch which includes an entree and bottomless mimosas for about $45 per person. The venue even sells merch.
Cecil of Harlem
Cecil of Harlem is an upscale venue in Harlem. It became a hot spot for the black gays when major black gay event producer Joe Morris hosted his Sunday brunch parties, "For the Culture" prior to the coronavirus outbreak. Hundreds of fine men come from all over the city and elsewhere come to this luxurious space. I even spotted Christopher Milan and other gay black influencers at this venue.
Joe Morris eventually stopped doing his brunch day parties at Cecil but it still attracted the LGBTQ community. During COVID-19 influencer Aaron Chavis has been hosting a drag brunch on the patio with entertaining performers. As far as the menu there is a good selection of food and drink including steak & eggs, chicken and waffles, sangria, and nutcrackers. I really like their nutcrackers. Just don't drink more than one pouch. You can get an entree and unlimited mimosas for about $50 (tax and gratuity) not included.
Bogota Latin Bistro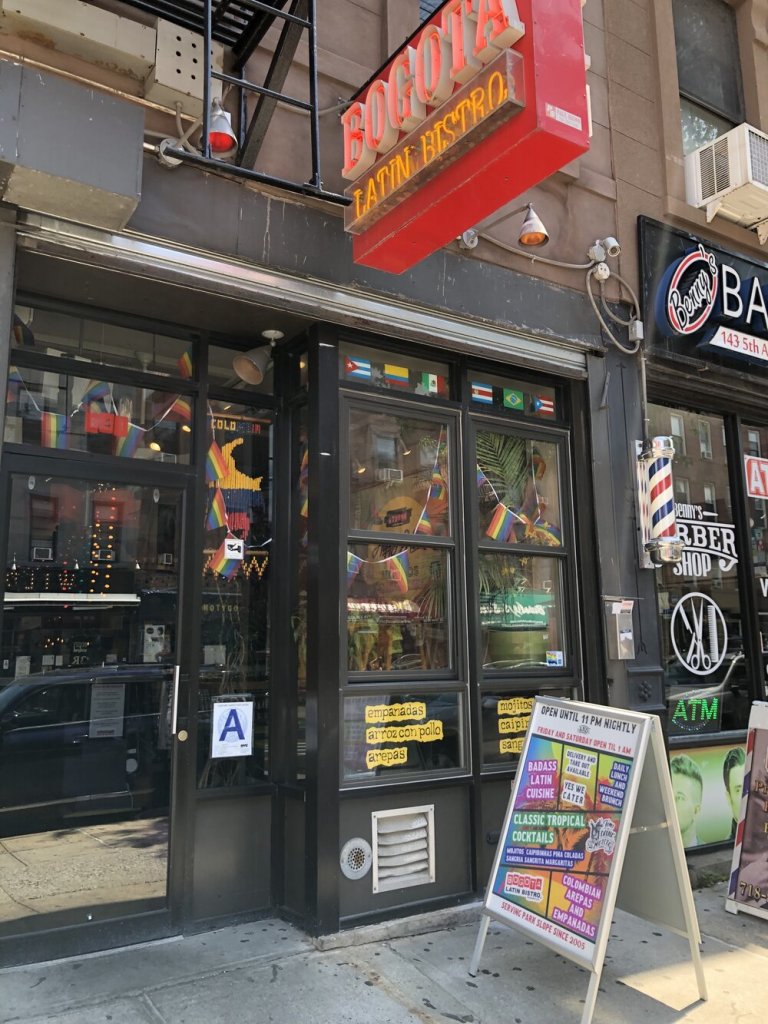 Bogota Latin Bistro is a gay bar in Park Slope, Brooklyn, and is owned by a married couple, George Constantinou and Farid Ali. I passed by this spot during Brooklyn Pride which is an annual pride festival that happens in June. As you can tell by the name the restaurant sells mostly Latin cuisine. Even though this venue sells Latin food the crowd brings all types of queer and straight persons.
For weekend brunch you can get paella, arroz con pollo, and other good Spanish dishes. The place is small but nice and cozy. I came here for Brooklyn Pride and let me tell you the place was lit. If you're in Brooklyn during the weekend this is a spot that you should check out.
Charlies Bar & Kitchen
Charlies is a gay brunch NYC spot in the Bronx. I was here one time for a bottomless drag brunch during Bronx Pride. The place resembles a tavern and has a nice warm setting. The brunch and drinks are decent.
Amy Ruth's

I absolutely love coming to this restaurant. This is one of my favorite restaurants in Harlem, a black gay mecca( you will find young adults, middle-aged, and senior men at the spot). I didn't grow up in a Southern household but I feel like I'm in one when I come to Amy Ruth's There are various soul food dishes including collard greens, turkey wings, cornbread, and even Kool-Aid! Every time I come here I get nostalgic memories of times that I've spent with my cousins. The entrees are named after famous celebrities like Jennifer Holiday and Michelle Obama. One of the best dishes here is the smothered chicken which will have your mouth watering. The place gets very packed on the weekends, especially after church service which can be anytime between 12-3.

Rustik Tavern

Rustik Tavern is a nice, cozy restaurant in Brooklyn. It's a small restaurant which gives it a feeling of intimacy. As the name suggests Rustik Tavern has rustic decor. The tables and chairs inside the restaurant and in the backyard are all wooden. The food selection is full of American comfort food. My favorite dish is shrimp and grits. Just looking at the dish will make you salivate. The brunch menu includes a few others like chicken and waffles and french toast which you'll pay about $20(not including tax and gratuity) for. If you're planning a date or an intimate gathering this is the weekend brunch spot to go to.

Tilly's

Tilly's is located in Bedford-Stuyvesant, Brooklyn. This spot used to be a lit party brunch spot up until covid. I happened to find the spot just randomly scouting places to host a brunch. I didn't think much of it till I actually got inside. The decor is cute with the black and white tile pattern and rustic furniture. The food here is on point and consistently good. I've been there multiple times for dinner and finally decided to go there for brunch as recommended by one of the bartenders. Boy, I was impressed. I had the Red snapper and potato fries which were seasoned to perfection. The chicken and waffle entree is also tasty. The food menu at Tilly's is the priciest on this list of restaurants but well worth it.

Cheryl's

Cheryl's is a black-owned restaurant in Brooklyn. If you enjoy soul food this is the spot to go to. The food is extremely fresh and you'll feel like you're eating an actual home-cooked meal. The food is not too salty and the dishes taste as good as they appear on your plate. The bread pudding is to die for. The indoor space is small and intimate which makes you feel very relaxed there.
The spot is not a turn-up spot but if you want good food go here.

Melba's

Melba's is located in Harlem New York on Frederick Douglas Boulevard. That strip has plenty of bars and lounges such as Angel of Harlem and Harlem Food Bar which a lot of black LGBT persons frequent.

Melba's is another popular soul food spot to go to for breakfast and lunch. As are some of the other restaurants on this list this place has a very relaxed vibe. The owner is famously known for her "chicken and egg nog waffles". The owner even appeared on the hit tv show "Throwdown! with Bobby Flay" and won a cooking competition for her chicken and waffles. Another great dish is Melba's mac and cheese. I've at mac and cheese at many places and could tell you that Melba's serves one of the best mac and cheese I ever had.

Clinton St Bakery
This restaurant is located in the Lower East Side of Manhattan. The place is small and resembles a diner. The spot is definitely not a party spot. But it's definitely worth it if you want delicious food. I would definitely recommend the blueberry pancakes. You will be addicted to the syrup!
If you come here with friends get there early because it gets packed quickly.
Soco

Soco is another great spot in Brooklyn for brunch. The first time I was there was with my fraternity chapter brothers and it was a very enjoyable experience. It has a nice, fun atmosphere and during weekend brunch you'll hear party music including current and old hip-hop and r&b songs. Soco has modern decor with a brick wall and red seating chairs and is spotted throughout the restaurant. One of the most popular dishes is red velvet and chicken waffles. I've had it a couple of times and all I could say is: Heaven sent! The mimosas are pretty good.

Risotto

Risotto is a cute brunch spot in Albany, NY. I went there with my fraternity brother and friends and definitely enjoyed myself. Brunch is cheap and very tasty. The average price of a brunch entree is $17. Bottomless mimosas were about $15 for 2 hours. The mimosas are served in big glasses so l definitely get my money's worth.
Best black gay brunches in the US
Beacon- Washington DC
The Beacon is a cute spot by Dupont Circle, a popular hub in Washington DC. The venue is actually a nice hotel with a fancy restaurant attached. There are a large indoor area and a spacious outdoor patio. There is a 3-course brunch menu on Saturday which is less than $40 (tax excluded). The food is good and so are the drinks. I have been to the Beacon for DC Black Pride for a couple of years and let me tell you. It was too lit!! So much so that I went there two days in a row. I went there on Saturday and during brunch, the waiter served you food at the table. I had the chicken and waffles and bottomless mimosas which I was satisfied with.
The next day my friends and I went to Beacon for Sunday brunch. On that day there was a buffet with so much brunch food including eggs benedict, pancakes, French Toast, and so much more! That was probably the best brunch experience I've ever had. It was like a factory of fine-ass men at the Beacon. There were masculine men, feminine men, thuggish men, etc. Even If you're very picky you would've found a handful of guys to choose from. Washington DC is known for its brunch scene and the Beacon is a great example.
Brixton- Washington DC
Brixton is a popular bar on U Street 2 which has a huge black nightlife and social scene. It's not a black gay bar but many black queer men do go there for weekend brunch. The venue has a rooftop which we black gay and bisexual men love.
Lips– Atlanta
Lips is a restaurant franchise with locations in US major cities including New York City, San Diego, and Fort Lauderdale. It's s a popular restaurant in that city. The venue is known for its Sunday drag brunch. Drag brunch is a brunch in which drag queens perform before an audience. These types of LGBTQ events are necessary because it helps to bring together all persons of the LGBT community together including transgender, bisexual, nonbinary, etc. If you have never been to a drag show you definitely should go to Lips. Drag queens are funny as hell and their joyful spirit will even wake up the dead.
The brunch menu includes eggs benedict, a blood mary burger, and pancakes. The cocktails have special names like Drag-o-rita and blojito. Lips is the ultimate drag dining experience so if you haven't been to a drag brunch definitely check out lips once the COVID epidemic is gone. Just make sure you have dollar bills to tip the drag performers.
10th and Piedmont- Atlanta
This venue is not exclusively gay but you'll find a crowd of black gays there for weekend brunch. Their brunch menu is extremely affordable and includes common brunch foods like chicken & waffles and shrimp & grits. The restaurant is open throughout the week so if you can't make it for Sunday brunch you can come on the weekday.
Tabu– Philadelphia, Pa
Tabu is a gay sports bar and lounge in Philly. I've been to Philly a few times including my fraternity's celebration and Philly Black Pride, an annual pride festival for the black gay community. The city has a spirit of its own. Tabu is popular among the black LGBTQ community. Just about every night there's something going on, including Terrific Tuesdays and Tap Takeoff Mondays. There is a drag brunch called Ladies of Tabu Drunk. The brunch menu is decent and prices are affordable. On average the entrees are $13 and include burgers, chicken & waffles, and grilled cheese sandwiches.
Rockwell– Los Angeles
Rockwell is a known spot in Hollywood, California, and it's known for its drag brunch. There have been performances from great drag performers who appeared on the hit tv show RuPaul's Drag Race.
Why is gay brunch NYC so popular in the LGBTQ community?
The LGBTQ community loves brunch. In downtown DC, Philadelphia, West Hollywood, Miami, and other metropolitan are considered the most important gay meal of the day. There have been several articles written that even stated that brunch has a gay agenda. Brunch is popular with gay people for several reasons and here are the reasons why:
A chance to socialize. Historically, gay bars are common spaces for the LGBTQ community to get other. Outside of these bars, brunch spots are common places for queer black men to eat and socialize. During dinner, you'll find groups of friends and families gathering, especially if it's a special occasion like a birthday or retirement. Breakfast time is the complete opposite. But during brunch, you'll usually see more groups of people out. Brunch is popular in a lot of major cities, including New York, Orlando, and DC. I remember once going out for brunch in DC during DC Black Pride, a popular weekend celebration for the black LGBT community. On average there were about 6 people at each table (fine-ass men by the way). The whole restaurant was packed to capacity.
Brunch lets you show your bougie side. Status is important for many gay men, including queer men of color. And the way we dress is also a sign of status. For the times I've gone to brunch here in New York and DC I feel like I'm watching a runaway. The gays come out and look very stylish and fashionable.
An escape from reality. Many of us LGBT+ persons face homophobia on a constant basis. Brunch is a space for the LGBT community to get together and have any type of conversation with other gays. One of the most famous brunches is Effy's Big Gay Brunch. The brunch was created by the wrestling figure, EFFY, and takes place in Tampa, Florida during Wrestlemania weekend.
Bottomless brunch. Bottomless brunch is not only a British thing but happens here in the U.S. It's a brunch in which you pay a set price(usually around $50-$60) for food and unlimited mimosas for about 1.5 hours. It's definitely worth it if you're trying to get buzzed. You can drink at least 6 mimosa glasses for this type of brunch. Food that comes with bottomless brunch is usually chicken and waffles and eggs benedict. To get the most out of bottomless brunch make yourself nice to the waiter and host.
Wrap Up
I just mentioned a few awesome gay brunch NYC spots. Whether or not there's a pride parade or pride festival so you'll definitely find us at one of these spots. So, if you're looking to connect with more queer men of color I recommend you to get your best brunch outfit, and if you have a kid leave them with a babysitter(you may see other men kissing or hooking up with others). Not only will you be able to have a good meal and good champagne but you'll also feel a sense of comfort and belonging.
If you want to know about more places and destinations outside of brunch NYC spots subscribe to my email.