Are you gay and looking to meet hot and sexy black men? Get ready to mingle in some amazing black gay bars in NYC.
Growing up black and gay I never felt comfortable being my true authentic self. Gay bars (aka queer bars, boy pubs, and boy bars) gave me that opportunity.  For people on the outside bars may just seem like places to drink and turn up. There are many gay bars in NYC such as Flaming Saddles, Cubbyhole, and Rebar. However, even though these venues are meant to be LGBTQ friendly there have been instances where the discrimination took place. Black gay bars have been safe havens for the black gay community were those persons where they can meet others who understand our culture. In this post, I'll take you a trip down memory lane of current and old black gay bars.
Present NYC black gay bars
Club Lambda
Club Lambda is a new black gay club in Brooklyn, NY. It just opened up this year and already is the buzz in New York City. The club is spacious. There are multiple rooms on the first floor, two levels, and an outdoor patio. Many times I've been to clubs and felt like I was in a dungeon. This is not the case with Club Lambda. It has nice decor including swanky furniture and purple lighting.
Several of the hottest black gay promoters have thrown parties here including Joe Morris, Richstar, and Sean Don. You would also find awesome DJs like DJ Poison VIY and Dj Smoove spinning hip-hop, r&b, and reggae.
Overall, the vibe is cool at Club Lambda. If you're looking to dance the night away or just meet a sexy black guy come to this club.
4 West Lounge
Left and right black gay bars have been opening in Harlem. And 4 West Lounge is one of them. It's a new gay bar that opened up in West Harlem by the black gay male couple Troy and Brian. You can spot 4 West Lounge as the name is sprawled outside the building's entrance. The venue has two levels, including a ground floor and a basement. The club The vibe is definitely for a 25+ older black and Latin gay male crowd.
Several black gay events take place at the venue including Taco Tuesday hosted by mega promoter Richstar and Trappy Hour, a weekly black LGBTQ happy hour, hosted by Leon Curry, another big black gay promoter. Drecules also throws an Afro-beats party here for the black LGBT community. What's amazing about this venue is that it draws both a heterosexual and homosexual community without there being tension between the two.
Lambda Lounge
Lambda Lounge is a black gay bar in Harlem. It opened during the pandemic in February 2020 and is owned by the black gay married couple, Charles Hughes and Richard Solomon. The owners are the same ones who own the liquor company, Lambda Vodka. The reason that the couple opened the lounge is because of the shortage of black gay establishments in New York City. Lambda Lounge is one of the few black gay bars in NYC
In an interview with Out.com Richard stated, "Unfortunately, the days of us having spaces where we could go and cut loose are over; they shut them all down." I've passed by Lambda Lounge and it's a very nice spot. There is a brick that will give the spot a modern look. There are purple lighting and black sofas which creates a nice sexy, atmosphere.
Despite opening during the coronavirus the bar has managed to stay open while other gay bars have shut down. There are different days throughout the week all catered to the black LGBTQ community and our allies. If you're a mature black gay man looking for a swank experience and want to meet hot gay men you definitely should come to Lambda Lounge.
Alibi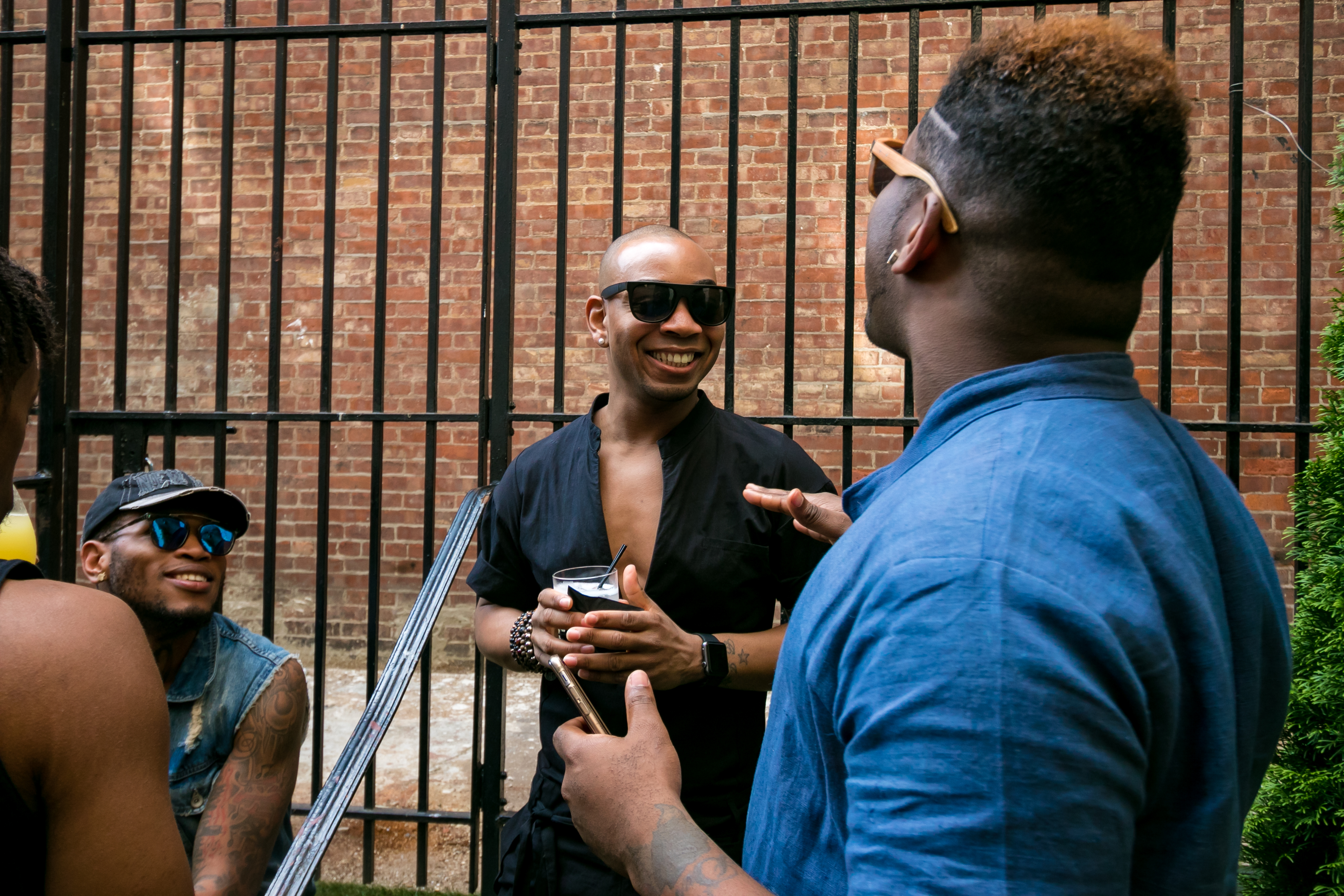 Alibi is is owned by Alex Minko, a former human rights attorney and a black gay man. This place will always be in my mind since that's where I did my first two-day parties.
Alibi is in Harlem aka black gay mecca. Think of U Street in Washington DC. The place is very clean and slick. On the outside, there is a rainbow flag by the door which represents LGBTQ unity. Inside the black gay hangout, there are modern paintings on the wall and there is black leather furniture for the patrons. The drink prices are a little high but you get what you pay for.
At certain times there used to be special events for instance on Monday nights there would go-g0 dancers and on Sundays used to be "Drunch" where unlimited mimosas and small bites would be served.
There was admission to enter Alibi unless for special events like Andre's, former Alibi's bartender, or nude-only events which are about $20.
Because of the coronavirus outbreak Alibi has been suffering like many other gay bars and lounges. Fortunately, Alibi has been able to raise more than $100,000 through donations.
Past black gay bars
Club Langstons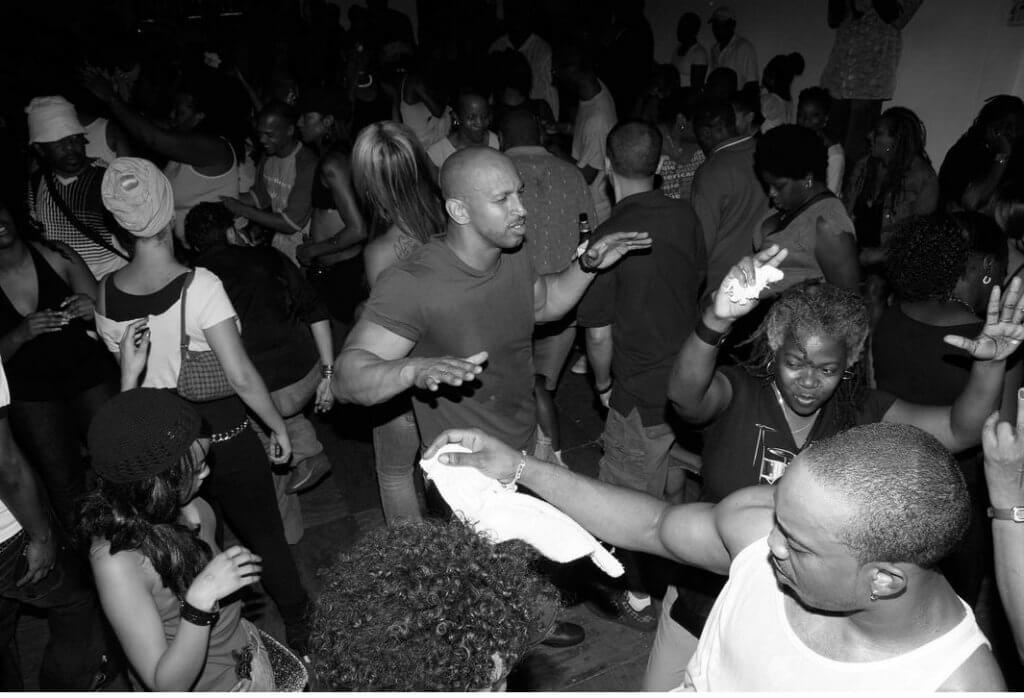 Langstons was a black gay bar & club in Bedford Stuyvesant, Brooklyn that was run by Calvin Clark. This is one of the last few gay black clubs in the United States period! I think Langstons was one of the first African American gay clubs I went to. It was part of my cherry-popping experience in the black gay social scene.
Much of the African American gay men I've encountered at Club Langstons were trade, rough gay men. Most of the time I enjoyed the music. Of course, Beyonce was played and there was a good mix of rap, R&B, and plenty of reggae. One of the unique parts of the club is that it was hidden like a speakeasy.
If you passed by Club Langstons during the morning or daytime you wouldn't know it existed.  There was no sign on the doorway and the only way you would find out about the club is through word of mouth or by seeing people lining up to get inside.   I did some research and learned that the club was set up like this to prevent people's identities from being revealed.  The club was strict on people's privacy and when the club first opened you weren't allowed to take pictures inside or near Langstons. 
One of the best things about this bar is that they used to pour their drinks heavily. The gays love to drink and Langstons made sure that their patrons were feeling nice.
No Parking
No Parking was definitely a vibe. It was a gay bar located in Washington Heights, a predominantly Spanish neighborhood. So of course, there were lots of gay Latin men in this gay hangout spot. The bar was tiny so many times you felt cramped inside the spot. Despite this issue, I always had a great time when I went. The crowd was full of sexy queer and Latin gay and bisexual men.
Secret Lounge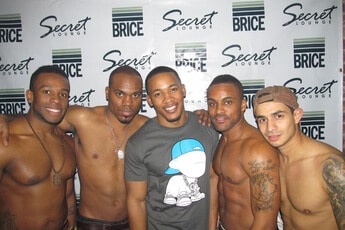 This was one of my favorite spots. Ever!! Secrets was a gay dance establishment in a secluded spot in Chelsea. If you're looking for hot gay men this was the stop to go to. I have so many memories of this place. I can still remember a few years ago when my fraternity brother was supposed to meet with me at Secrets but by the time I got there the place was closed down because the front window was broken.
There were several black gay promoters that hosted parties at this event including Eventbrice. Every weekend this place was packed with hundreds of Spanish and African American gay men. You would find some of the hottest black gay men. There were hot go-go dancers at this club. I don't like to knock anybody's hustle but they can get pretty annoying by asking you for money. The go-go dancers weren't so bad. Another part I enjoyed about the I remember I bagged a cute Spanish bartender. I'm still mad I lost his number!
Two Potato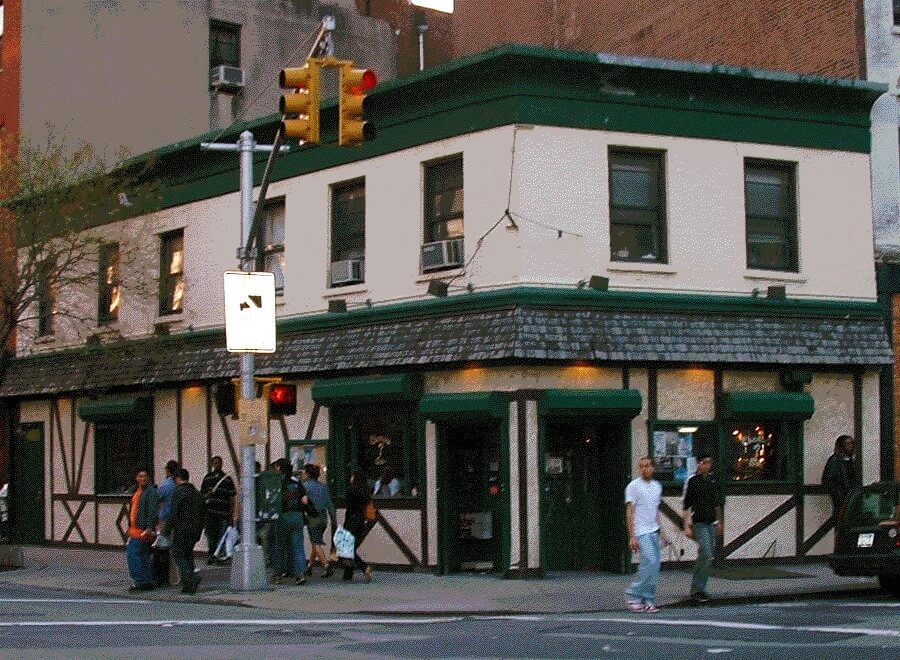 Two Potato was another gay bar in the Village. The Village is a gay neighborhood in NYC so it was common to see both black and gay white men roaming the streets and going in and out of many gay hangouts. Two Potato was originally Chances Are but later changed its name to Two Potato. It was a popular spot for the African American gay community that had drag performances and other types of shows. entertainment.
Chi Chiz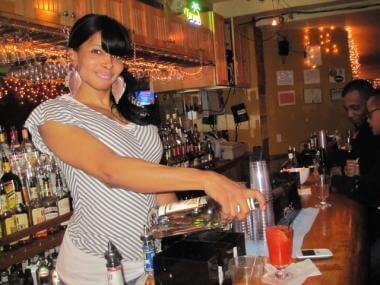 Chi Chiz was a black gay bar in the Village owned by Ronnelle McKenzie and Alex Everett. Unfortunately, people in the neighborhood complained about drug dealing and crowded streets even though similar incidents were happening in other gay bars and gay clubs. Unfortunately, Chi Chiz closed in January 2010. Fortunately, the Village still has some good gay hangouts.
Luke & Leroy's
Luke & Leroy's was a black gay bar in the Village. The bar had two levels and played hip hop music, house, and garage music. Black gay influencer Nathan Williams threw a Pride happy hour in remembrance of Luke & Leroy's at the black gay hangout, Lambda Lounge.
Starlight Lounge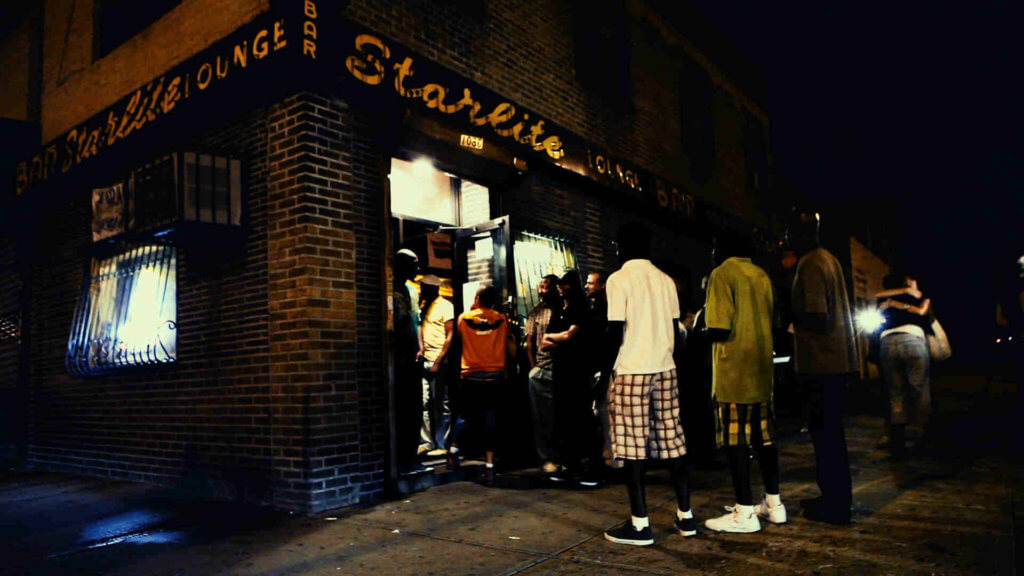 The Starlight was a black gay bar in Brooklyn and the oldest black gay bar in NY. It opened in the 1960s which was a time of extreme homophobia. The spot welcomed black LGBTQ persons and helped build the black LGBTQ community. Sadly, the venue closed in the 2000s.
Why and how black gay bars started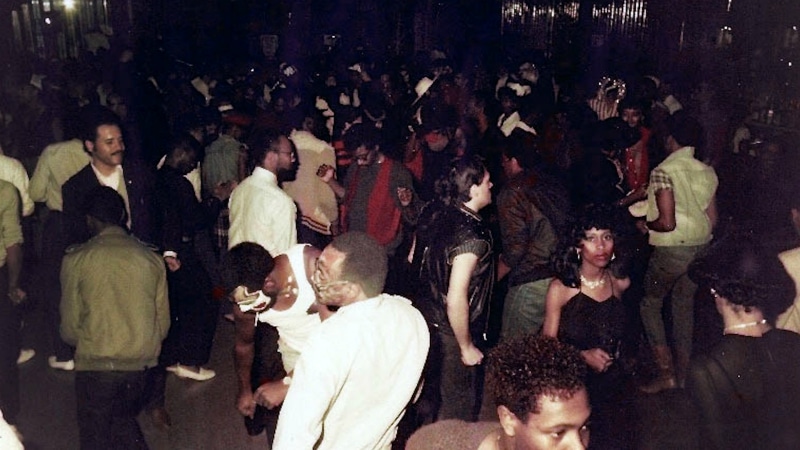 Gay bars are places where LGBTQ persons can be themselves. You'll find all types of men including twinks, bears, dl, feminine, and masculine. In most gay bars you'll hear some house music and a variety of other genres depending on the DJ. Below is a list of venues you should check out.
Even though gay bars were supposed to be welcoming to the LGBTQ community some of them really were not. And I've actually heard of this before COVID and even seen this myself. The issue with many gay bars was the discrimination and racism against people of color, especially Latinos and African Americans. Despite the gay rights movement during the 1960s black queer men were overshadowed by white gay men. Gay black men often had a difficult time simply getting into white-owned gay bars. There were strict dress codes that even happen now to prevent large crowds of African Americans and Latinos. Thus, black gay bars were created as spaces for black queer and black transgender persons to interact and network with each other.
Black gay bars were not only entertaining spaces but places of refuge and social action. During the AIDS crisis, many black gay bars like Jewel's Catch One and ClubHouse in DC held fundraisers and did outreach to combat the HIV/AIDS epidemic.
One of the first black gay bars in NYC was the Starlite Lounge located in Brooklyn, New York. This was a special space for the black LGBT community since it was non-discriminatory and welcomed both straight and LGBTQ persons. The venue was owned by Harold Harris and lasted from 1962 to 2010.
There were many other black gay bars in other cities outside of New York City during the 1970s including Brass Rail in DC, Jewel's Catch One in Los Angeles,
One of my first experiences with other gay men was at a black gay club called Langstons in Bedford-Stuyvesant, New York. Back in the day, this was the spot. It was such a great feeling. I was able to freely express myself and could flirt and dance with guys without having to worry if they were gay or not. A lot of my female straight friends said they would feel comfortable being at a gay bar or a nightclub because people are there to have fun and enjoy themselves. Now, I do admit there are some weird things you'll see at a gay bar like public urination or a couple of guys in one stall.
State of black-owned gay bars
There is a crisis of black-owned gay bars. Over the past decades, dozens of black gay bars in NYC have closed down and many more continue to shut down at a fast rate. One bar that I truly miss is No Parking in Washington Heights. It was a very small bar but the experience gave me so much life. Just a couple of years ago Club Langstons, a black gay bar in Brooklyn, closed down.
In other major cities across the country, black gay bars have been closing. In 2015 Jewel's Catch One, one of the oldest black gay bars closed down. This was a huge loss for the black gay community since that venue was the center of black gay nightlife in Los Angeles.
In general, gay bars are disappearing especially because of COVID. Due to a lack of indoor dining, a lot of gay bars haven't been unable to get the traffic they normally would. Alibi, one of the last blacked owned gay bars in Harlem has created a GoFundme page asking for more than $100, 000 in donations to survive COVID. Lambda Lounge, Harlem's other black-owned gay bar is also struggling financially.
Fortunately, there are some black gay bars still around such as Lambda Lounge in Harlem, and Jeffrey Pub in Chicago, some black gay bars have opened despite the coronavirus epidemic. For instance, Williams Inn Pizzeria and Sports Bar opened in Chicago, Lambda Lounge opened in New York City.
Why do we need black gay bars?
Gay bars should bring LGBT persons together but are not always inclusive. Black gay bars are safe havens for African American gay and bisexual men who've been excluded from other spaces. In the article "Black gay nightlife and black history month" by Eric Gonzaba it's mentioned that "black gays and lesbians have even faced discrimination at gay bars". Black gay hangouts such as Catch One and the Rail across different cities started to form in the 1980s/1990s as a way for African American LGBT persons to come together. Those venues welcomed black gay culture but more importantly an escape from reality. We gays know have to have fun so even straight people would enjoy themselves and feel comfortable going to gay bars and gay nightclubs.
Even though we're in a new time period there is still a lot of racism within the LGBT community.  I've encountered gay men with that "No African Americans, no Asians, & no Latins mentality".  I can recall once when I was at the gay club XL which attracted a large African American gay crowd.  This one white gay patron stands in the line for a few seconds and says, "This is the welfare line".  In another example, the gay bar Rebar which used to be G-Lounge was known to be racist.  Soon after Rebar opened a lot of gay black men that used to go to G-Lounge complained that security and staff profiled them.
How to flirt at a gay bar?
Going to a gay bar can be fun but also quite intimidating. There's the stereotype that if you don't look a certain way or dress a certain way guys won't look at you. There's always going to be a space where people will misjudge or simply ignore you. That's fine since not everyone will be your cup of tea. If you want to attract others to a gay bar I would suggest dressing visually appealing. You don't have to dress like royalty but wear something comfortable and appropriate. Once you're in the bar you can easily identify who's attracted to you by body language and gestures like short eye glances or smiles.
NYC gay social scene
New York City is a special place for the LBGT community. Like San Francisco and West Hollywood, it has a large LGBT population.  In New York, there are more than 1 million people that identify as LGBTQ. There are many landmark gay bars left here including Stonewall Inn and Julius which is the oldest gay bar in NYC. In NYC there is also the Eagle bar, a gay leather bar, which has many order locations throughout the world. Furthermore, there are many gayborhoods including West Harlem, Hell's Kitchen, and the Village.
Despite the coronavirus pandemic, many gay bars have been able to survive. The Stonewall Inn, the gay bar where the Stonewall rights of 1969 still remain intact and have become a U.S. landmark. Julius bar, one of the first gay bars in NYC also still remains
Wrap up
The oldest gay bar in America is Cafe Lafitte in Exile which is located in New Orleans, Louisiana. One of the largest gay clubs in the world is Theatron located in Columbia.
In sum, black gay bars are not just places where black LGBT persons could drink and dance. These gay hangouts have represented more than that. These establishments were places where black gay men could escape reality and be their true selves.