Are you an LGBTQ person who enjoys going to Black Pride pride festivals and events? Check out the Black Gay Pride calendar.
Black Gay Pride is a movement that supports and encourages Black LGBTQ culture. The first Black Pride parade was in Washington DC on May 25, 1991. Some of the most lit Black p rode celebrations are Atlanta Black Pride Weekend, DC Black Pride, and Philly Black Pride. These festivals are very entertaining and have allowed me to make a lot of good friends. In this post, I will talk about the black gay pride calendar.
Black Gay Pride Calendar
Cold as Hell Detroit, Mi lgbtdetroit.org/events/coldashell

Houston Splash Houston, Tx houstonsplash.com

Historic Selma Selma, Al selmaalabama.com
Cincy Black Pride Cincinnati, Oh cincinnatiblackpride.com

Big Boy Pride bigboypride.com

DC Black Pride Washington D.C dcblackpride.org
Miami Beach Pride Miami, Fl miamibeachpride.com

Albany, NY blackandlatinogaypride.com

Los Angeles Black Pride Los Angeles, Ca lablackpride.com

Pride Puerto Rico Puerto Rico pridepuertorico.com

Philly Black Pride Philadelphia, Pa phillyblackpride.org

Harlem Pride Harlem, NY harlempride.org
UK Black Pride United Kingdom ukblackpride.org.uk

Bronx Pride Bronx, NY facebook.com/BronxLGBTQPride
NYC Black Pride New York, NY nycblackpride.org

Fayetteville Black Pride Fayetteville, NC fayettevilleblackpride.com
Atlanta Black Pride Atlanta, Ga atlantablackpride.org

Winter Pride Fest Puerto Rico winterpridefest.com

Paris Black Pride Paris, France pbpweekend.com

Austin Black Pride Austin, Texas austinblackpride.org

Charleston Black Pride Charleston, SC charlestonblackpride.org

Connecticut Black Pride New Haven, Ct apnh.org

Pittsburgh Black Pride Pittsburgh, Pa pghblackpride.org

Charlotte Black Pride Charlotte, NC charlotteblackpride.org

Black Pride RVA Richmond, Va ugrcrva.org

Little Rock Black Pride Little Rock, Ar facebook.com/LRBLACKPRIDE/
Jacksonville Black Pride Jacksonville, Fl jaxflblackpride.wordpress.com

Blaqout Kansas City, Mo blaqout.org

Nashville Black Pride Nashville, Tn nashvilleblackpride.org
Durban Pride South Africa durbanpride.org.za
Boston Black Pride Boston, Ma bostonpride.org/blackpride/
History of Black Gay Pride
Black Pride movement of the 1960s
The Black Pride movement of the 1960s was a precursor to Black Gay Pride. It is linked to the American civil rights movement which was a fight against racism and discrimination against African Americans and other groups of color. As stated in the article "Black Power" the movement started as segregation happened in poor black and Latino communities. During this time period, civil rights leaders like Dr. Martin Luther King Jr. and Malcolm fought against white supremacy and supported black consciousness. With the support of black organizations like the NAACP and National Urban League African Americans and blacks of different ethnic groups black nationalists from all over the country staged protests to fight for equal rights as Caucasian persons. One of the most influential black organizations was the Black Panther Party which was co-founded by my fraternity brother Huey P Newton.
The Black Pride movement influenced many other groups such as Native Americans and LGBTQ persons to fight for equality. The movement was so influential that Black Pride Month aka Black History Month was created to honor the contributions of blacks to this country. Black Pride Month has been celebrated in February because Abraham Lincoln and Frederick Douglas's birthdays were during that month. There were even Black Pride symbols created such as the black fist and kente cloth.
One of the most popular Black pride quotes is by Marcus Garvey who said that "The Black is not a badge of shame but rather a glorious symbol of national greatness."
The Black Pride movement of the 1960s lives on through the Black Lives Matter movement which is the ongoing fight for racial justice for black people.
Gay Pride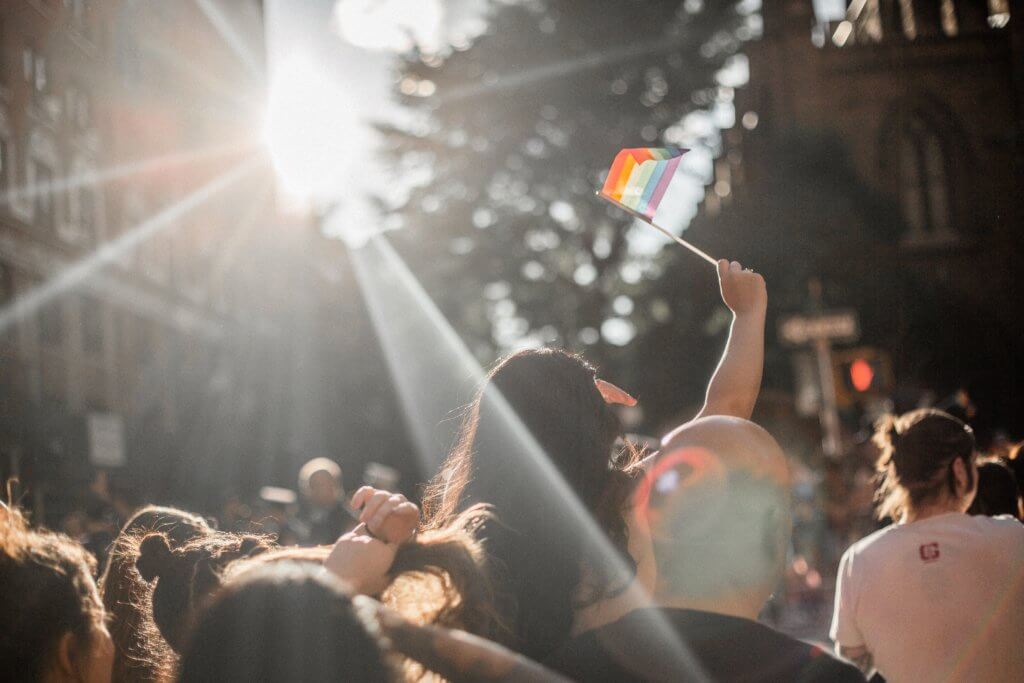 Many people think Pride is just simply a word but it does have history. There was an actual organization called Pride which stood for Personal Rights in Defense and Education. The organization was founded in the 1960s and its purpose was to push for gay rights and gay liberation.
Gay Pride is a celebration of LGBTQ culture. It started after the Stonewall riots in NYC in June 1969. These riots were led by bold LGBTQ activists including black transgender leader Marsha P Johnson. Marsha P Johnson is one of the most influential leaders and is respected throughout the whole LGBTQ community. She and another transgender activist Sylvia Rivera founded the Star (Street Transvestite Action Revolutionaries) to help provide housing and shelter for LGBTQ individuals.
After the Stonewall Riots on June 28, 1970, the first gay pride march took place in New York City. June eventually became LGBT Pride Month; October is LGBT history month which is important because it celebrates important LGBTQ leaders and individuals such Marsha P Johnson, Sylvia Rivera, and Barbara Gittings who have made contributions to society and fought for gay rights.
Gay pride festivals take place in different countries all over the world including Ireland, the United Kingdom, and India. The celebrations consist of a lineup of events including parties, workshops, and gay brunches. LGBT persons who don't attend any of the functions still celebrate LGBT pride by rocking rainbow flags and wearing rainbow-clad accessories.
Two of the oldest and largest pride celebrations are NYC Pride and Dublin Pride which both take place in June. Another large Pride festival is Pensacola Pride. This event takes place along the Emerald Coast in Florida during Memorial Weekend. Fortunately, Pensacola Pride won't be canceled.
Another major Pride festival is DC Pride which takes place in June. The first Pride festival in DC was in 1975. DC Pride 2021 takes place from June 1st to June 30th.
Pride has become so significant that there is even a World Pride that takes place this year in Copenhagen and Malmo on August 22nd.
Black Gay Pride
While the mainstream Gay Pride was meant to unite the whole LGBTQ community black and Latin queer persons felt excluded. I could only imagine how they felt because I have felt the same way. Gay clubs and bars would hardly play any hip hop, rap, and reggae music. Moreso, gay bar owners would turn away customers (hint, hint) if they dressed or looked a certain way. As a result, many queer persons of color felt that the LGBT Pride was really white Gay Pride. You wouldn't even find a black pride calendar on any website covering LGBT pride festivals.
Years after the first Pride march BGP is a celebration of black LGBTQ/SGL culture. The first Black Pride parade took place in Banner Field in Washington DC on Saturday, May 25, 1991. Black Gay Pride is similar to Gay Pride in that both movements focus on LGBT rights.
Center of Black Equity oversees the global network of Black Pride
CBE Black LGBTQ+ Blog & Podcast Directory
Black Gay Pride is a lineup of black LGBTQ (lesbian, gay, bisexual, transgender, and queer) events and programs. The reason it was started is to celebrate queer black culture and to empower the black LGBTQ community. There have been many movements such as the civil rights movement and women's suffrage movement for oppressed groups including African Americans and women. BP was a movement for the African American and black gay communities. Organizers of BP felt that mainstream Pride festivals and parades weren't very inclusive of black LGBTQ culture and catered mostly to the white gay community. BP became so significant that even a black pride was created to show solidarity among black LGBTQ+ persons.
What led up to the first BP celebration?
The Children's Hour led up to the first BP celebration. This was an event in DC that took place during memorial weekend. I've done the research and found that the Children's Hour may have first taken place sometime during the 1970s. During that time the event was one of the biggest celebrations for the black LGBTQ community. Black gay persons from all over the country came to DC for the Children's Hour. Unfortunately, the Children's Hour shut down in 1991 due to the HIV/AIDS epidemic. Despite the shutdown, there was a vision for something bigger. Three black leaders by the names of Theodore Kirkland, Welmore Cook, and Ernest Hopkins thought of the concept of BP. The purpose of BP was to fundraise money to combat the HIV/AIDS epidemic which heavily impacted the black gay community.
When was the first Black gay pride?
The first BP celebration was in Washington DC which took place in 1991. It was a celebration for the black LGBTQ community.
When was the second BP pride?
The second BP pride is Detroit Black Pride aka Hotter Than July. Hotter Than July started in 1996 and is one of the biggest celebrations in Detroit for the black LGBTQ+ community. It takes place at the end of July and is about a week long. This year Hotter Than July will have its 25th anniversary which will be virtual due to the coronavirus epidemic. The virtual events will include a candlelight vigil, a church worship service, and Sunday brunch.
The International Federation of Black Pride (IFBP) was the umbrella organization of BP festivals. IFBP was founded in 1999 to build a network of black LGBTQ Pride festivals and organizations.
IFB was later changed to the Center of Black Equity (CBE). As stated on the website, its mission is to "provide a multinational network LGBTQ+ network". The president of the Center of Black Equity is Earl Fowlkes that I know him personally and can say that he's an amazing leader. He truly does care about the black LGBTQ community and has done what he can to uplift the community.
Black Pride & Pride
Both BP and Pride celebrate persons of all types of gender identities and different sexual orientations. Pride originated with the gay rights movement which took place during the 1960s. In June 1969 there was a climax in that movement after the police raided a gay bar name the Stone Wall Inn, a gay historic landmark located in Greenwich Village. This raid led to what's called the "Stone Wall Riots" led by black transgender activist Marsha P Johnson and other LGBTQ activists. Eventually, the riots ended and homosexuality became more accepted. The first Pride march started in New York City in June 1970. This was the 1 year after the 1969 Stone Wall Riots. Since then there have been pride parades and pride festivals all around the world.
However, BP was founded on the concept of unifying queer persons of color. The original organizers felt that mainstream Pride parades and festivals catered more to the white gay community.
Biggest BP Celebrations
DC Black Pride (Black Pride Day Weekend)
DC BP was the first BP celebration and is one of the largest BP celebrations. DC BP first took place in Washington DC in 1991. I went to DC BP a couple of years ago and had one of the best times in my life. There were all types of events including day parties, happy hours, picnics, and concerts. DC was flooded with gay men. I remember one night I went to a party at a hotel where Lil Kim performed. There were at least 2,000 men at that club that night. One thing I love about DC is the amount of sexy black gay men you'll see there. There is also a wide selection of black gay men in DC. Whether you're into big-boned, average size, small, or dark-skinned you'll find the man of your dreams there. You'll also see a whole of LGBTQ+ waving the rainbow flag which represents gay, lesbian, bisexual, and other spectrums of LGBTQ persons.
One of the highlights of DC Black Pride is the Unity Ball. This event was a ballroom event that is very popular in the black LGBTQ community. Ballrooms are spaces where contestants vogue and walk on stage. The ballroom scene started in NYC by drag queens Crystal Labejia and Lottie Labeijia. There are drag performers, gays, women, and other groups of persons that have participated in drag performances. The last Unity Ball in Washington DC was in 2019.
The only downside to DC Black Pride is that it can be costly. If you plan to go to the night and day parties you should purchase ALL the tickets in advance. Otherwise, you will be paying a whole lot of money at the door. When I went to DC Black Pride there was a huge party at an upscale venue named the Park where R&B singer Tank performed. Party promoters know that the club-goers, especially towners are going to shelve out money, so pretty much all the clubs and bars inflate their prices. Persons who went to the Park and didn't purchase advanced tickets were paying at least $40 at the door. I would advise bringing at least $350 that weekend for daily spending.
Unfortunately, DC Black Pride 2020 was canceled due to the coronavirus pandemic. DC BP 2021 will take place but will be virtual.
Atlanta Black Pride
Atlanta is known for its black gay nightlife and social scene. So of course, Atlanta Black Pride Weekend takes place in Atlanta, Georgia during Labor Day Weekend and is another Pride celebration that brings out the masses. ABP is one of the world's largest pride for the African American LGBTQIA+ community. It started in 1996 and since then has grown immensely. Even during the coronavirus epidemic crowds of young and older people attended Atlanta BP 2020. ABP takes place during Labor Weekend which is in September. There are tons of black gay events thrown by the biggest black gay promoters from Atlanta including Rockstar Productions and Next Level Events. Atlanta BP usually ends with a big festival at Piedmont Park, inclusive space for black gay, and bisexual men.
Wrap Up
BP celebrations have had a reputation of only focusing on parties. But that's not the case. I was most recently at NYC Black Pride 2020. NYC Black Pride takes place every August and normally ends with a big celebration at the Coney Island Beach Fair. Due to the coronavirus epidemic, the beach event was canceled but I was able to attend a drag brunch which was entertaining.
Before COVID-19 've been to other BP weekends in which black LGBTQ organizations organized award ceremonies honoring black LGBTQ leaders and held health workshops on the HIV/AIDS epidemic within the black LGBTQ communities. Contrary to common belief, BP consists of all types of events from parties to educational events. Overall, BP is meant to create unity among black LGBTQ communities and empower us socially and economically you've never been to BP I highly suggest you should even if you're straight.