Are you a gay person looking to connect with thousands of beautiful black gay men? Get your best outfits and get ready for Philly Black Pride.
There are pride festivals all over the world including NYC (one of the world's largest pride festivals) and Philly Pride Festival. However, Pride Festivals sometimes do not cater to the black LGBT community. Philly Black Pride Weekend (PBP) is the ultimate celebration for the African American LGBTQ community; Atlanta Black Pride is the biggest black pride in the U.S. I absolutely enjoy it because it gives me the opportunity to network and attend all types of exciting Black queer events.  This year will be the 20th anniversary and will take place from April 25th to April 28th.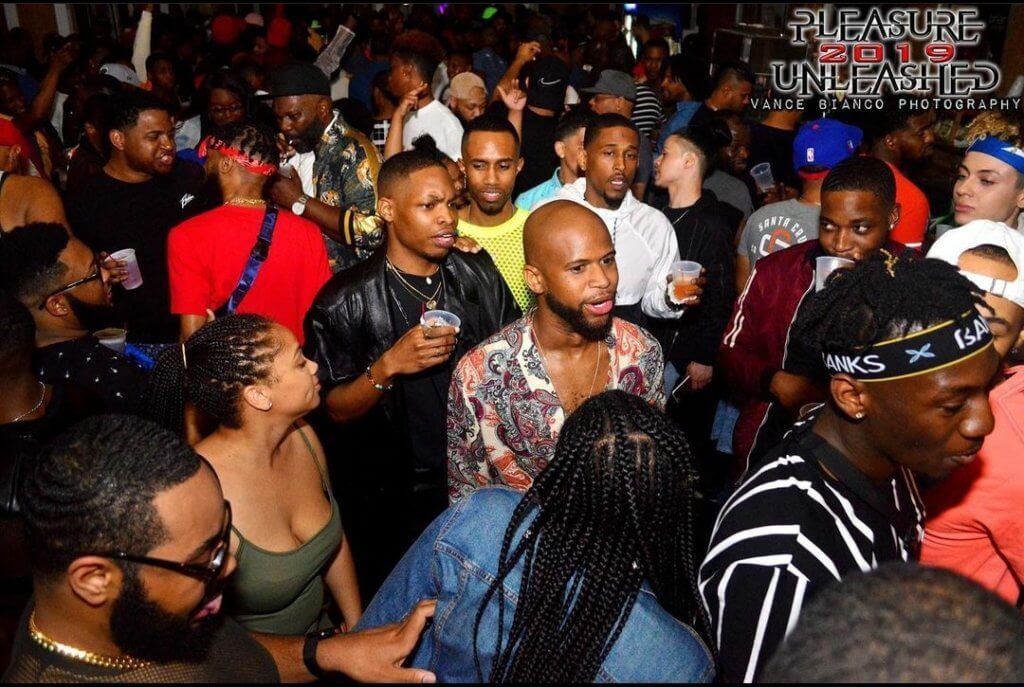 Why you must attend Philadelphia Black Pride?
Philadelphia is a popular Democratic city famous for its cheesesteaks and Liberty Bell. It's about half white. Its biggest problem is poverty and crime but this is a common problem across many major cities. It's a good place to live and has nice areas like Fairmount, Oldy City, Rittenhouse, and Bella Vista. The prettiest neighborhood in Philly is Rittenhouse
Here are some other reasons to go to Philly Black Pride:
Philly is LGBTQ-friendly. Philadelphia is such an advocate for the LGBTQ community that there is even a Philadelphia Pride Flag which is an updated version of the rainbow flag. The rainbow flag is an LGBTQ flag that represents the unity of the LGBTQ communities. The Philly Pride Flag has brown and black stripes which highlight black LGBT communities. Besides that many LGBTQ festivals take place in Philly including Outfest and the Philadephia Parade which takes place at Independence Mall.
You can meet thousands of black gay men.  In many settings especially rural areas homosexuality is still frowned upon. That makes it hard for gay men to be open with their sexuality and possibly meet other gay men.  Even here in a big city like New York sometimes it can be a challenge to meet other gay men.    New York City has a lot of cliques and social circles so it may be hard for an outsider to meet other gay men.  At Philly Black Pride people for the most part are friendly and sociable.  I've even A
Lots of hot sexy men. During Philly Black Pride you will find all types of men sprawled throughout the city; black, white, Spanish, slim, thick, nerdy, and sophisticated. There is no need for Grindr or Jack'd that weekend. You will find what you want in sight. It's actually easy to make friends in Philly during Philly Black Pride.
You'll feel a sense of belonging. I grew up uncomfortable about my sexuality due to fear of rejection from family and friends. A pride festival like PGB makes me proud of who I am. During one weekend at PGB, I met other gay black men from other cities who had similar experiences growing up.  Philly Black Pride has helped me to become more comfortable in my sexuality and prideful of who I am.
Parties & Entertainment
Below are some of the hottest black gay events taking place during Philly Black Pride. The theme for Philly Black Pride 2019 is "Respecting Our Past and Looking to Our Future". There are a variety of events geared towards the gay community including an R&B happy hour, a nude paint and sip, block parties, and night parties. Most of these parties have an admission price of about $20.
Issa Vibe Weekend- R&B Happy Hours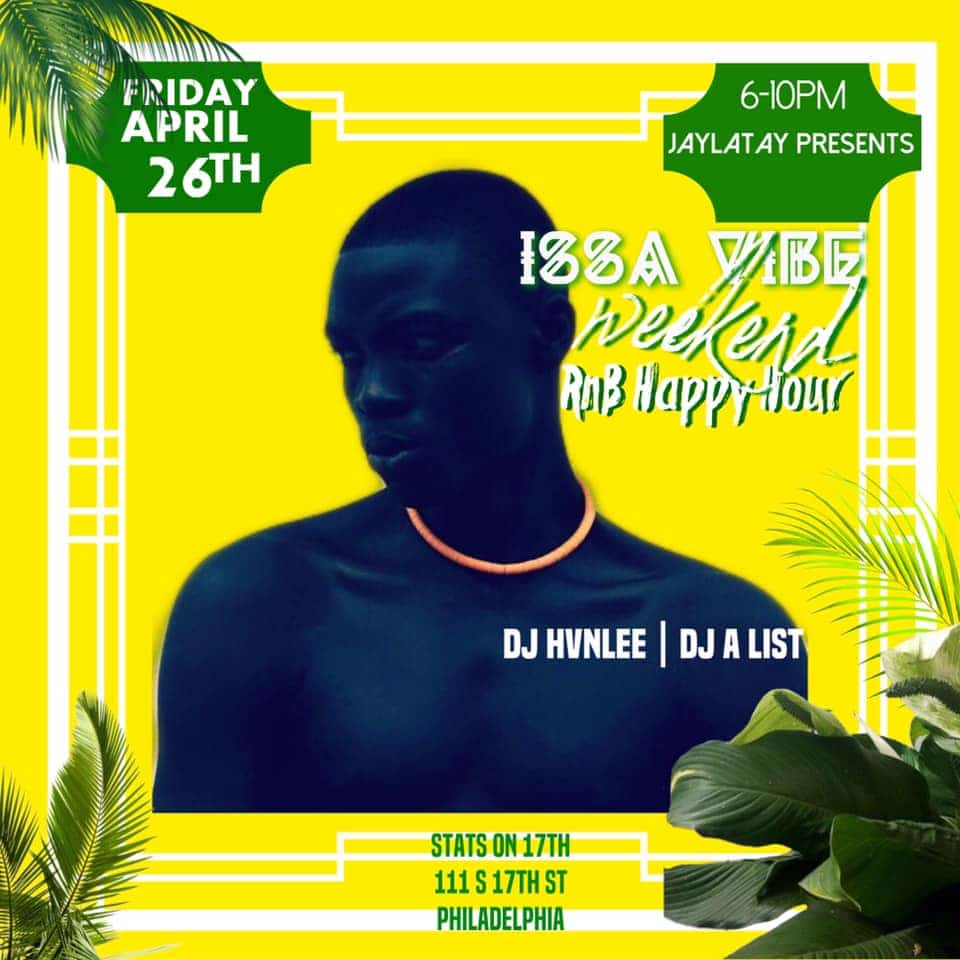 Do you enjoy R&B? This event is definitely for you. For some of us mature and grown folks, we may not like listening to trap music and rap. At this event, you have the opportunity to listen and dance to smooth sensual music all night long. This event is organized by one of Philadephia's top event producers, JayLatay. He's one of the most popular gay black promoters in Philadelphia. He has hosted many parties and knows how to throw a good event so you should definitely check this one out.
Philadelphia Black "Welcome" at the Aloft Hotels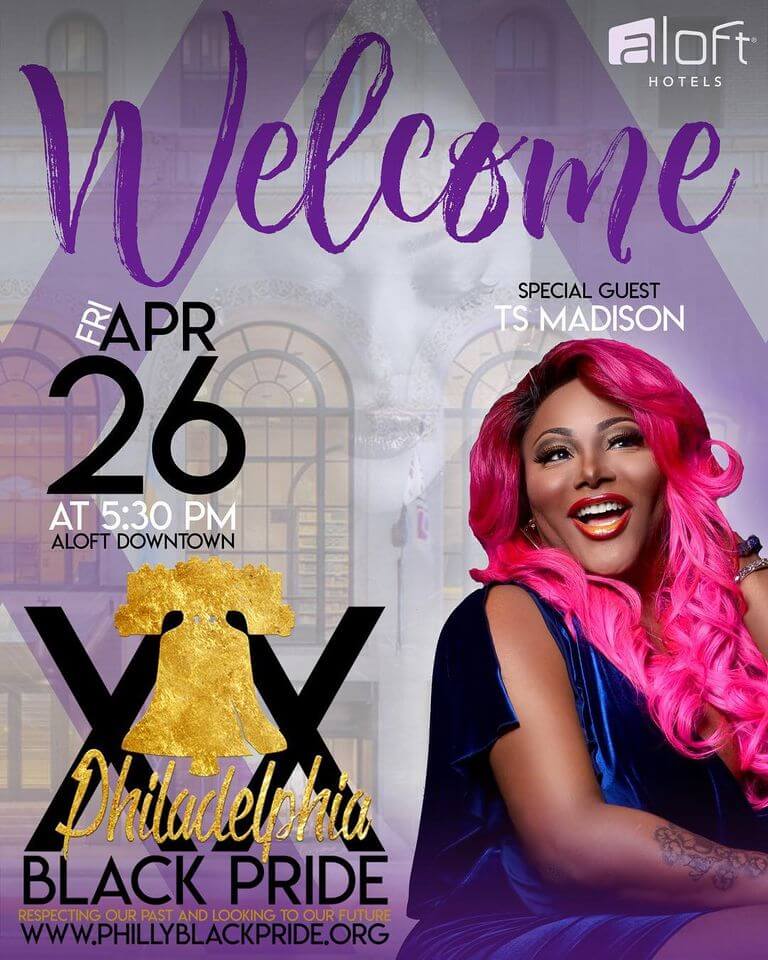 This is the reception party for Philly Black Pride. Adult entertainer, TS Madison, will be hosting this event. TS Madison is a member of the trans community and has been a huge advocate for transwomen and the rest of the trans community. Like many other transwomen, she knows how to engage and captivate her audiences with her witty commentary. The reception should be a great turnout given the popularity of TS Madison. The event will take place at the fancy Aloft Hotel.
2000 Sexy Men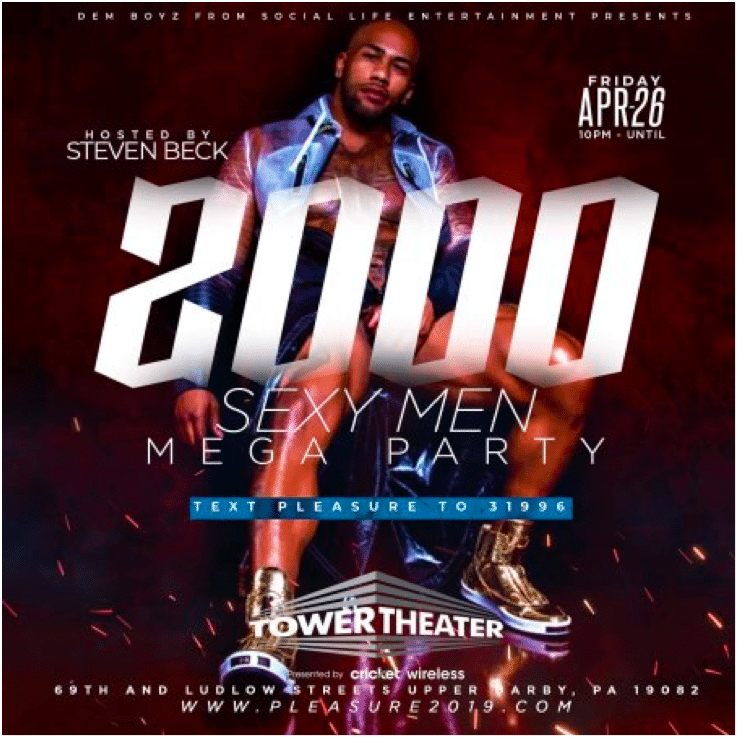 This is another event by Social Life Entertainment. Every year the "2000 Sexy Men Party" is hosted by a trending celebrity. What I love about their parties is that SLE heavily supports gay celebrities. Last year gay music artist, Bobby Lytes, performed at the SLE's event. I also enjoy SLE parties because they are organized at quality venues.
Their music selection at their parties consists of rap, pop, and r&b. What's distinguishable about their parties is that the crowd is very fashionable and trendy.
The Phirm Party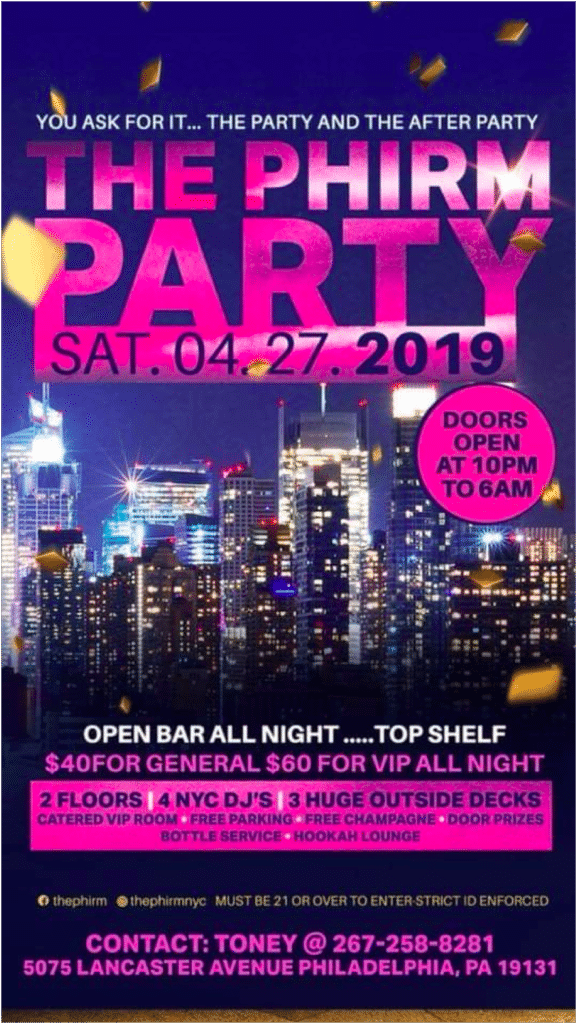 This is another fun event that I've attended in the past. The Phirm organizes a Saturday night party every year; they are always planning ahead and may even be planning for 2020 PBP. This year their event will be at a nightclub with four different DJs. I went to this party last year and had a great time. Thousands of men travel from all over to attend the Phirm party. Admission is about $20 which is definitely worth the price. There's also the option of an open bar which is about $40. If you love masculine men this is definitely a party you need to attend.
Mikey Sharp's Men Only Nude Sip n' Paint
Have you ever been to a Sip N' Paint? If you have or haven't this is the event you should go to. This is one activity to network and party outside the club scene. The cost of the event is about $50 but it will be worth it. The nude model, Mikey Sharp will be featured. Mikey has a nice, sculpted body that you will drool over. There are two time slots for the event and the location would only be disclosed after the purchase of a ticket. As I said if you're not into the club scene this is an event you definitely want to check out. Just don't try to hook up with Mikey.
Spring and Fling: The Block Party
All Black Gay Pride festivals have that one staple event that many of the attendees flock to and the main reason to visit Philadelphia. The "Spring and Fling: The Block Party" event is Philly's Black Pride staple event. If you enjoy block parties you'll definitely enjoy Spring and Fling. Every year Social Life Entertainment hosts its annual block party(the actual event is at the Belmont mansion located in Fairmont Park. The event draws more than a thousand people from different states. Probably one of the best black gay parties during the Philadelphia Black Gay Pride. Expect good music and a drama-free crowd. The best part of the event is that it's an open bar!!
X Day Party
Yes, Social Life Entertainment does have one of the biggest stamps in the gay black community social scene. During Philadelphia Black Pride they end with a Sunday day party. As I mentioned earlier I enjoy their parties since they attract my type of crowd: fashionable and trendy. The venue is spacious and pretty nice looking.
Social Influencers Day Party
As the name suggests this day party is hosted by black gay influencers in the black gay community. One of the hosts is, Antoine Anderson, who's considered "The Diddy of DC" so expect a large turnout at this event. The party will take place at UBar which has a bar and kitchen. Get ready to get your eat and drink on!
VIP Brunch
I absolutely love going to brunch so you know I had to include a brunch party. This brunch day party is being organized by two social influencers. This is my first time hearing about an event like this at Philly Pride so I'm eager to go. The cost to brunch is about 40 dollars which includes food and unlimited mimosa. This event is exclusive in that you need to input a password to purchase a ticket on Eventbrite. Hopefully, I'll be able to collaborate for the 2020 Philly Black Pride.
Community Events
Impaq Awards Ceremony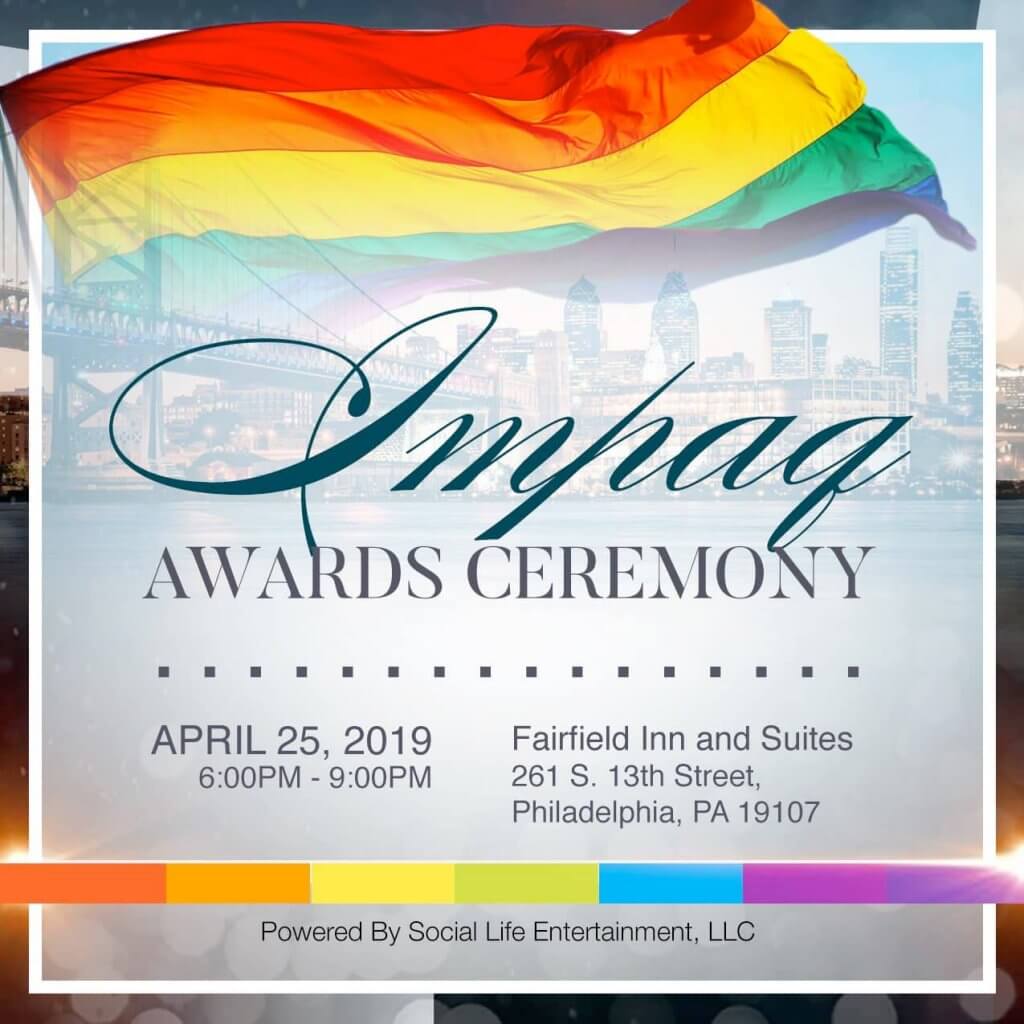 During most Black Pride Weekend celebrations there will be an awards ceremony. This event is a break from the parties of the weekend. The Impaq Awards ceremony celebrates black LGBTQ excellence. The event will take place at the Fairfield inn & Suites by Marriott. The benefit of going to an event like this is meeting different black gay influencers from all walks of life and circles.
LGBTQIA+ Health Expo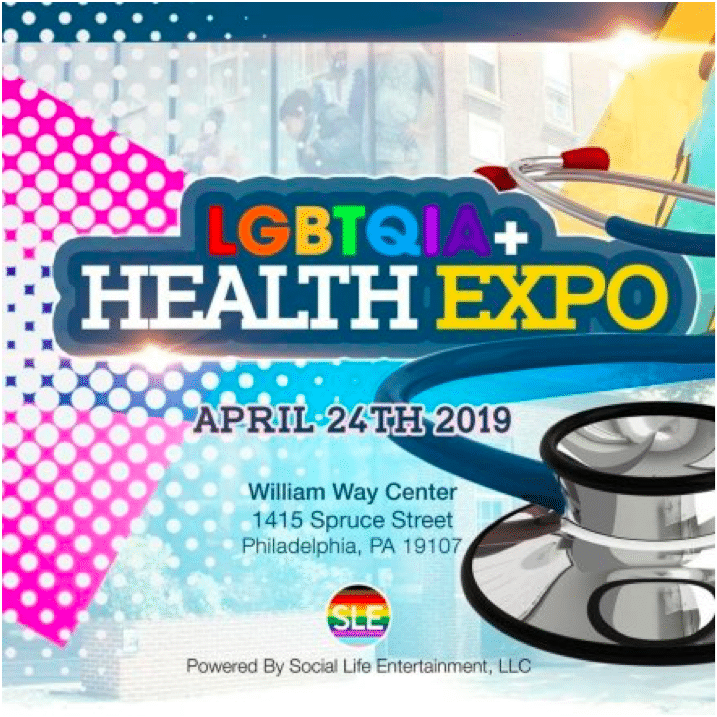 This is a free event that all attendees should come to. The Health Expo is an informational workshop at William Way LGBT community center, a safe space for the gay community. There will be numerous health services organizations at this event that will be conducting HIV tests and offering condoms. This is the first health expo by the event producer, Social Life Entertainment. Of all populations, the gay black community has one of the highest rates of HIV/AIDS. The expo will shed light on this and educate people about safer sex and better ways to take care of themselves. I absolutely love that a party promoter is doing this health event. It goes to show that they do care about the health and wellness of the black gay community. For more information check out Philly Pleasure Weekend.
The Conversation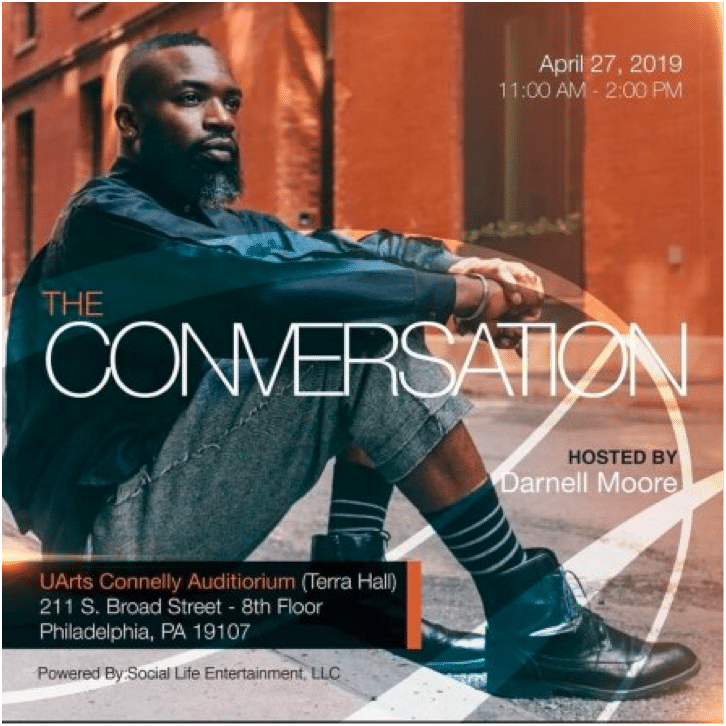 This is a panel discussion you would enjoy. The event will take place at the University of the Arts inside the Connelly Auditorium. Social worker Darnell Moore will be presenting at the event. Darnell is originally from NJ and currently resides in NYC. In his lifetime he has spoken on different subjects affecting the black gay community including same-sex marriage, religion, and dating.
The discussion will be moderated by the influencer social worker, Joseph Williams. I've met Joseph before and can tell you he's an amazing speaker. He knows to engage his crowds and is not afraid to talk about taboo subjects like the racial division in the gay community, violence among transgender individuals, and the HIV/AIDS epidemic within the black gay community. The event is free so you don't have to worry about spending money on this event. It will take place at the Willam Way LGBT community center.
Where to eat in Philadelphia
Wawa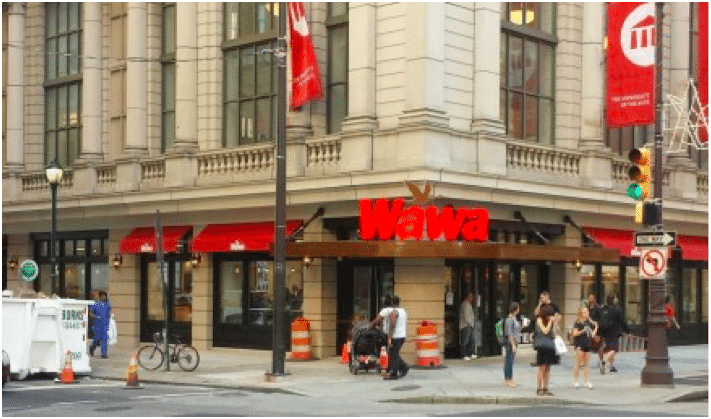 If you're not trying to break your pocket at a fancy restaurant go to Wawa. The store resembles 711. And the food is actually good. I'm not a fan of breakfast but I ate here and was pleased. There are plenty of foods available and there's a machine that gives you full control of creating your own sandwich. The location is downtown which is close to where many of the events are taking place during Philadelphia Black Pride.
Max's steaks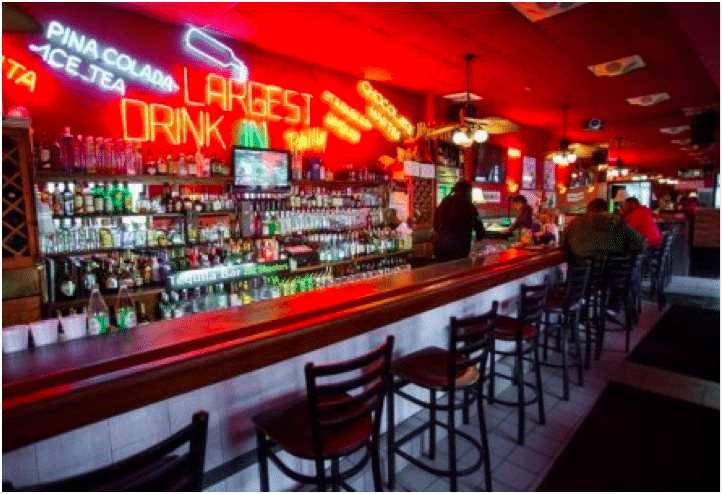 If you go to Philly you have to eat a Philly cheesesteak. Don't go to a fancy restaurant. Go to a local spot. The place is about a 15-20 minute drive from downtown. My friend recommended me to Max's Steaks and I fell in love. The restaurant sells the best cheesesteaks I've ever had! The spot is a little far from downtown but the trip is worth it. The cheesesteaks are served in two different sizes but either size would fill you up. And the prices are decent I would literally travel to Philly just for Max's Philly cheesesteaks.
Where to stay in Philadelphia
Aloft Hotel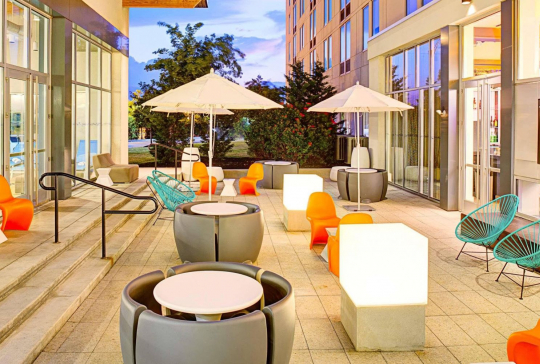 Aloft is the official host hotel for PBP. If you're looking At his hotel will be some of the official events for the weekend. Because Aloft is the host hotel and because of Penn Relays the room cots may not be too affordable.
Other Black Pride Celebrations
Atlanta Black Pride
There are many other Black Pride festivals including Chicago Black Pride, Tristate Black Pride, and Denver Black Pride. One of the biggest black pride festivals is Atlanta Black Pride. It takes place in Atlanta, Georgia during Labor Day Weekend. Thousands of queer and bisexual men from all over the country attend Atlanta Black Pride.
DC Black Pride
DC Black Pride is the second-largest Black Pride festival. It's the first black pride and took place in May 1991. The persons who started it were Ernest Hopkins, It takes place during Memorial Weekend in Washington DC.
Wrap up