Are you a gay man looking for sexy underwear to purchase as a gift for your boo or simply wear yourself? Check out the best gay underwear brands & gay jockstraps on Amazon.
Fashion is just not a look but a statement. Many of us gay men get excited when dressing up whether it's at a party, Pride event, or any other celebratory occasion. Even when we're in our bedroom we still try to maintain a sexual appeal. If you are one of those guys who enjoy being sexy behind closed doors you can pull it off by wearing nice underwear. Girl underwear is called panties and guy underwear is called underpants. Most guys wear boxer briefs but there are a lot of us, especially gay men, that wear jockstraps. Y-front underwear is also popular since they are comfortable and provides support for your nutsack. Slits in underwear are good because they allow you to pee without effort.
Below is a selection of cute and sexy gay underwear brands that you can wear.
What are jockstraps and why are they used?
Jockstraps are underwear with a cup. It has a waistband and a pouch to carry your nutsack. Jockstraps were originally invented in Boston for bike messengers. They became useful for male sports athletes to protect their genital area. What's also good about them is that they are much more comfortable than underwear and lets you exercise better. Jockstraps have become more fashionable and sexual. I've seen many gay men of all types and sizes wear jockstraps at gay events and parties. Because jockstraps expose the buttocks I really don't see heterosexual men wearing it publicly in fear that they may be perceived as homosexual.
11 gay underwear brands & gay jockstraps on Amazon
The gays love mesh and soI had to list this product. It's an elastic boxer brief that feels nice and soft. If you're trying to go for a trade sexy look in the bedroom this underwear will do that job. You can wear it in the house or at an underwear party.
The underwear comes in many different colors.
The picture above is very enticing. I know so many gay men that love jockstraps and enjoy wearing them. Well, you can resemble that same look for yourself or your partner. The Arjen Kroos Men's Jockstrap is a popular gay jockstrap on Amazon. It comes in different sizes including small and extra-large. This is awesome since a lot of undergarments are usually made for slim and average size guys. So even if you're bigger boned you can still wear this underwear. The item has a small pouch in the front and in the back, there's an open area that shows the full buttocks. It's made of polyester so that the underwear it's soft and comfortable. The best thing about his item is that it is inexpensive and costs less than $10.
Do you enjoy going to gay hookup events or parties? Or simply, just want to look cute and sexy in the sheets? Grab this gay jockstrap shown above. There is a cover for your nut sack but no cover in the back.
SKYSPER Jockstrap
This jockstrap is made for daily use, working out, or sports. You can wear it at a party but it doesn't give that sex appeal like the other gay jockstraps on this list. The item is designed like underwear but the only difference is that there's no cover on the back. It comes in more than 20 different colors and patterns, including US flag patterns on the front cover and waistbands with rainbow stripes.
I wear mostly boxers briefs but I do wear underwear from time to time. Hanes has one of the best lines of underwear in my opinion. The fact that Hanes Men's Tagless Comfort Flex Fit Dyed Bikini is an Amazon bestseller attests to this. It's not an actual bikini but that the look of it. The item comes in a pack of six underwear in different solid bold colors. It's made mostly of soft cotton so it will feel good on you. The underwear comes in all different sizes and is inexpensive. If you like underwear you definitely should check these out. As of now, the Hanes Dyed Bikini is the #1 men's bikini underwear on Amazon.
I absolutely love boxer briefs. My underwear is full o the Hanes and Fruit of the Loom brand. The picture listed above is Fruit of the Loom Boxer Briefs which is a good brand. They come in a package of 7, 12, and even 144 underwear. There are so many different sizes of them including small and even 5X! What I love about the item is the elastic band which keeps the underwear tight on your waist. In the front of the boxer brief is a small briefing area. What's great about this product is that both men and women can wear them.
I don't know any man or woman that doesn't have white underwear. It's simple but cute. There are other colors and patterns available including bold red and black stripes. The underwear is by Fruit of the Loom and as I said above Fruit of the Loom is a good brand so the underwear is worth spending your money on. The underwear is a mix between boxer briefs and a bikini. It doesn't look overly sexual yet still seductive. You can wash the item in the machine over and over again without it being destroyed.
This selection of male underwear is so cute. It doesn't look slutty at all but still carries an aura of sexiness. There is an array of colors including black, red, and blue. The red one kind of reminds me of Captain America. The underwear has a small pouch that gives you breathing room for your genitals. It's made of mostly cotton so it will feel comfortable on you.
This is another popular jockstrap on Amazon. It was created for athletes and guys who work out as the name suggests. It has an old-school look and reminds me of the jockstraps I have seen in high school. The item comes in different colors including grey, white, black, and blue. There is a small pouch in front of the strap and the back of the strip is pretty much open. Even though this jockstrap is for athletes it can't carry a cup. You can wash this item in the machine but just don't tumble dry it. This is not the sexiest underwear on this list of twink underwear for gay men.
Many underwears have a monotone look. If you want something colorful check out the 5Mayi Men's Underwear Boxer Brief. There are 5-7 pieces of underwear in a pack and each one has a different color waistband. One pack has waistbands with the colors of the rainbow which gives it a Pride aesthetic. The underwear is made of soft fabric which will allow you to feel comfortable. The waistband is not too wide or too small and won't slip off your body.
Boxer briefs are so cool to me. If you're a masculine gay guy you would love the Hanes Men's Dri Boxer Briefs. They come in solid bold colors that any trade guy would love. The waistband is black and has the word "Hanes" in red. There is a small pouch in the front that would allow you to see a man's bulge.
Where else can I find gay underwear brands & gay jockstraps?
Amazon is the biggest eCommerce market where you'll find a lot of great products. If you prefer not to purchase online you can find the sexiest twink underwear in sex shops and video stores with peep shows. You will find the underwear in the back of the store where the dildos and other sex toys are. Twink underwear can also be found in retail clothing stores like Marshall's and TJ Max. Of course, in these stores, you won't find undergarments that are as sexual in nature as in sex shops.
Wrap up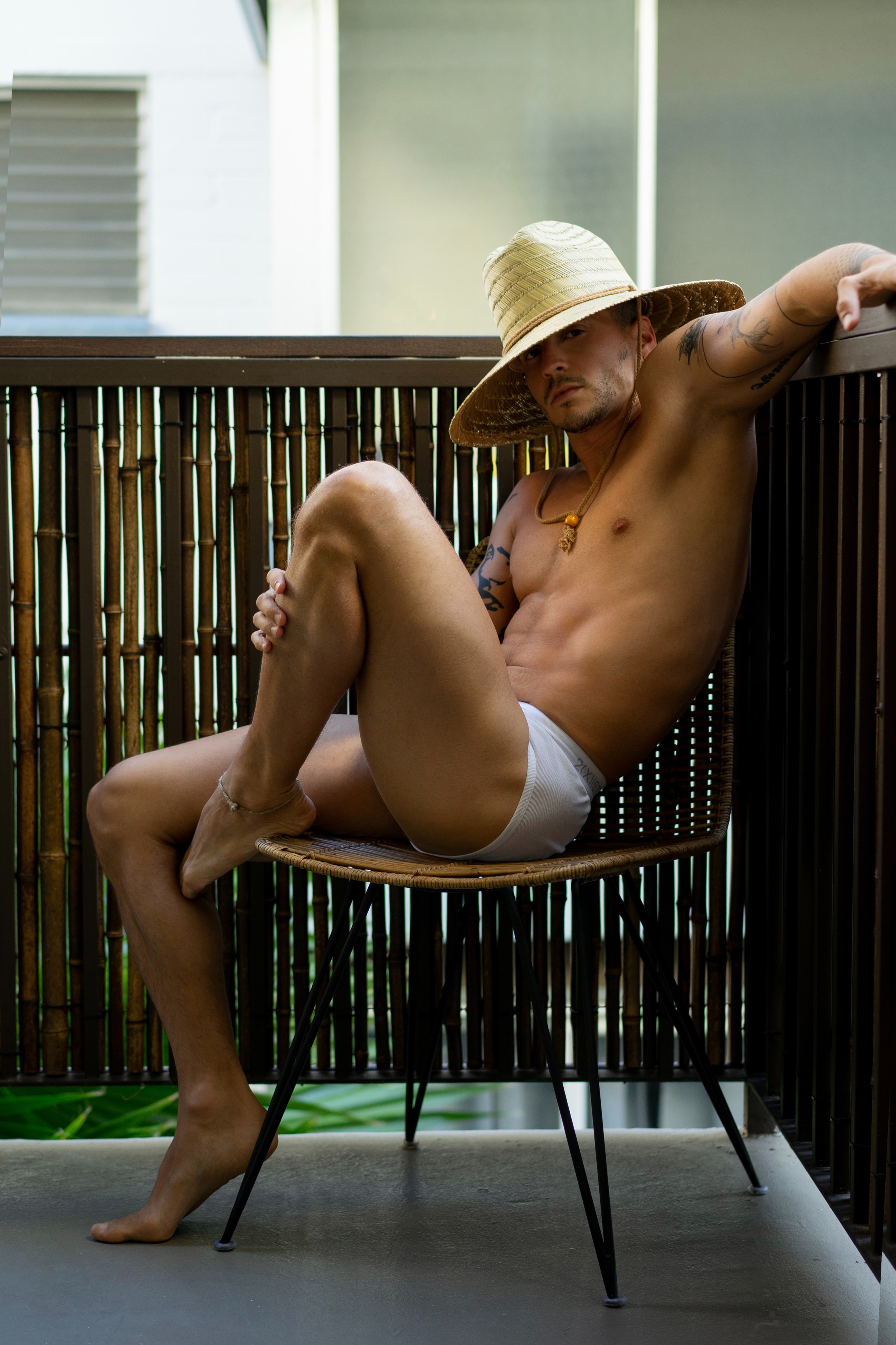 We all like to feel important and look good. In the gay community, this is especially the case. I know many gay men that love to look fashionable and sexy in public and behind closed doors. The gay underwear brands and gay jockstraps I have shown above are some of the sexiest undergarments on the market. The good thing is that some of the underwear can be worn by both men and women. There are hundreds of more types of jockstraps and boxer briefs that the LGBTQ community you can find online and at retail clothing stores and sex shops.