Are you a queer person who enjoys seeing gay characters on television? Check out this blog post of the best gay kiss scenes on television
I found that people are very uncomfortable with gays kissing for several reasons. For one, they think it's disgusting. And two, they don't want it exposed to their children or kids in general. For those very reasons, it's important to have those LGBTQ moments on television for more LGBTQ acceptance. In this blog post, I'll discuss the best gay kiss scenes on television.
Hot gay men kissing scenes on telvision
Dawson's Creek
This was my show back in the day!! I remember my brother would clown me for watching shows full of white women. I love black tv shows and films but certain tv shows full of white characters grabbed my interest. And Dawson's Creek was one of them.
Dawson's Creek aired in the late 90s. The good days. The show is about a group of high school teenagers growing up in Massachusetts. I really like the character Joey played by Katie Holmes. Joey was cute, tomboyish, and had some spark to her. The 3 other original main characters weren't as interesting. At least to me.
One of the highlights of the show is the gay kiss between the characters Jack and Ethan during the third season. Yes, the typical white guy names. Anyway, the character played by Jack was Kerr Smith who is fine as hell. Jack was dating Joey but eventually came out to her during the second season of Dawson's Creek. In the third season finale, Jack gets the courage to lock his lips on his love interest, Ethan. The funny part is that after he kisses him Ethan tells Jack that he has a boyfriend. And Ethan's boyfriend is right behind them watching the whole interaction. Bummer!
Days of Our Lives
I never could get into soap operas. The storylines never really made any sense to me and it seems like every episode would introduce new main characters. Plus, I was told that soap operas were for women so I wouldn't really watch them.
As I got older I still kind of hated soap operas. And at my current age, I still don't understand them. However, I did get to enjoy one storyline with the characters Will and Sonny. Chandler Massey plays the character of Will and he is so adorable! I do like blond white men, especially the pretty boyish-looking ones.
Will is a young white guy struggling with his sexuality.  He has his first gay experience when he gets drunk and steps out to get some fresh air.  Another man follows Will to make sure he's ok.  Will ends up kissing the man as Sonny overlooks him.  This kiss is intense and lasts a few seconds long Later on, Will and Sonny end up meeting with each other and Sonny kisses him.  Will pushes Sonny away and asks Sonny what he's doing later.  Later on, though Will and Sonny end up becoming romantic partners.
EastEnders
Eastenders is a British soap opera. It aired during the 1980s which is in the same decade I was born. The show created history having been the first British show to have a gay kiss.
The gay kiss took place between the male characters Colin and his boyfriend Guido. The kiss was just about a quick .5 of a second. What made it special was that it was the first kiss on British tv.
Glee
Glee is a tv show about misfit teenagers dealing with the challenges of high school. These teenagers deal with depression, suicidal issues, abuse, and bullying. I may have had some issues with depression. But bullying? Oh no, you better think twice about trying to harm me. I'm from Brownsville and I have crazy people in my family.
Two of the gay characters in the show are Kurt and Karofsky. Kurt is an openly gay and flamboyant white guy. Karosfsky is the complete opposite. He's your stereotypical jock. Arrogant and just nasty. He bullies Kurt by calling him names and even goes as far as pushing him against a locker. However, it's later revealed why Karofsky acts so mean to Kurt.
In one episode Kurt is texting his boyfriend Klaine and Karofsky knocked Kurt's phone out of his hand. Karofsky then goes to the boys' locker room and Kurt follows him. Kurt tells Karofsky off and Karofsky threatens to punch Kurt. Karofsky all of sudden then kisses Kurt. This is probably one of the biggest plot twists in the show. What I like about the kiss is that Karofsky seems so at ease. It was like a release for him to finally express himself as a gay man. Unfortunately, after the kiss, Kurt pushes Karofsky off him. The look of disappointment on Karfosky's face is priceless.
Grey's Anatomy is a tv series about the lives of medical residents. When the first show came out everyone and their mother was watching. Honestly, I haven't really watched it. But you know me. Once I got the tea that there were gay characters I had to tune in to watch the gay storyline. I just wish there were more black gay characters.
The show's gay characters are Levi Smitt and Nico Kim. Their relationship seems pretty toxic since they never come to a full agreement of what their dating Nico Kim is a complete jackass. He's that charming handsome guy that will reel you in and leave you alone once he gets what he wants. On the other hand, Levi is very sweet and honest. He can be annoying but he's a good guy.
High School Musical
High School Musical is a fun, light-hearted sitcom. I really don't like watching musicals but I can tolerate some episodes of this show. It's not my favorite show but I don't dislike that show either.
High School Musical is about a group of high schoolers making their own version of the "High School Musical" play. The show has so many different characters. One of the main characters is Troy Bolton. He's played by Zac Efron who is a gorgeous white guy (I'm starting to realize I have more of an attraction to white men than I thought I did). The other two characters are the gay theater boys Carlos and Seb.
Carlos and Seb are the first gay couple on the show.  Their relationship starts when Carlos invites Seb to prom.  Carlos gets their first and waits for Seb to arrive.  Seb is on serious CPT (colored people time) and arrives at prom 3 hours later.  After prom finishes Seb and Carlos stay behind in the school auditorium.  Carlos tells Seb that he's lucky to meet Seb and they kiss each other for .5 seconds on the lips.  This is a kids' show so the kiss isn't overly sexual.
Star Wars: Rise of Skywalker
Star Wars is a franchise that's been around even before I was born. That's 30-plus years. I enjoyed the characters like Yoda and Luke Skywalker and even enjoyed the video games. But honestly, I could never sit through a whole movie! The movies were too long. But anyway, the Rise of Skywalker grabbed my attention after hearing about the same-sex kiss scene.
In Rise of Skywalker, there was a brief kiss between the female characters Foe and Pinn. They press their bodies against each other and lock lips for a couple of seconds. The camera is not zoomed on them so if you're not paying attention to the scene you can easily miss it.
Wrap Up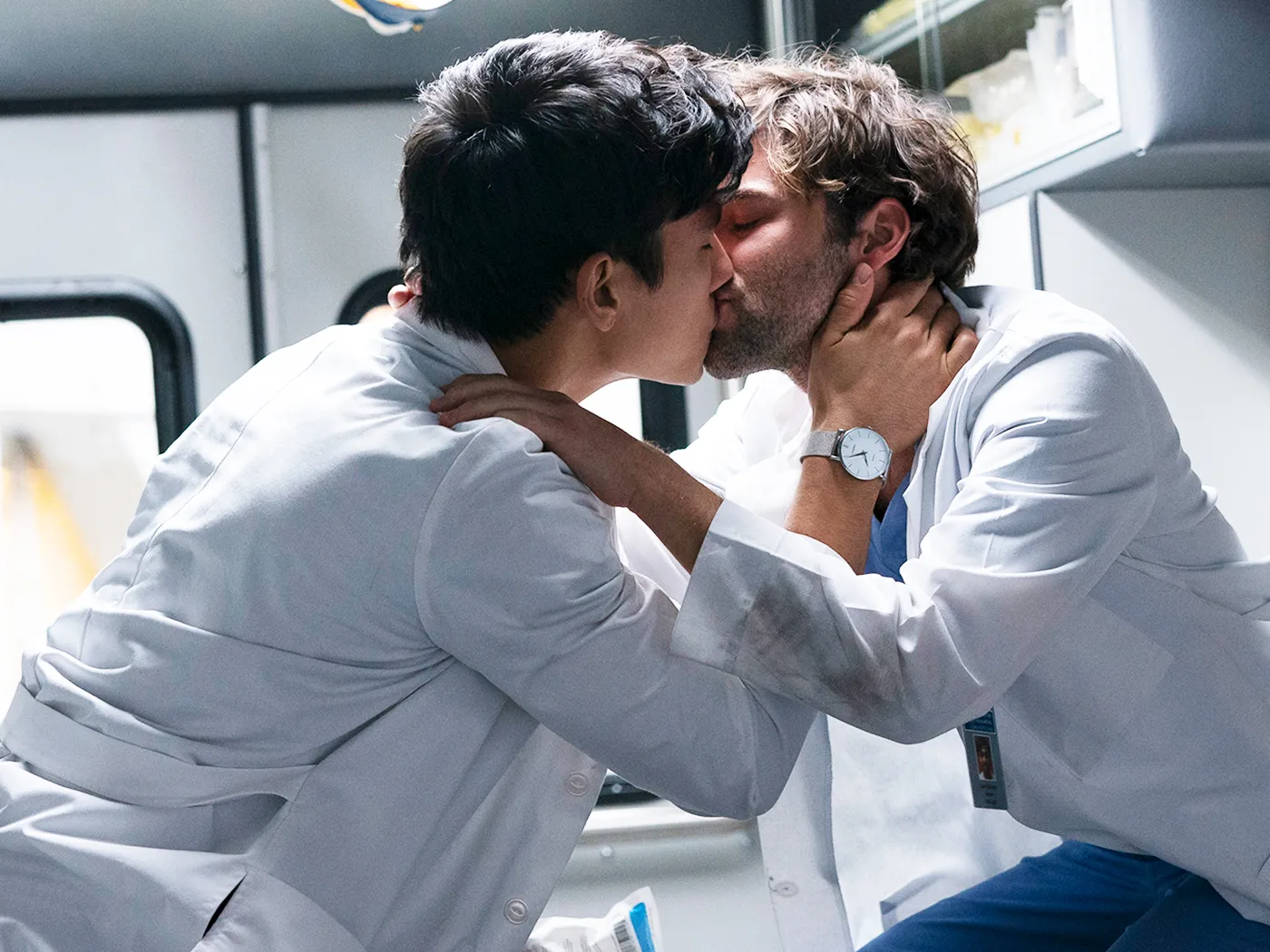 I just showed you a list of gay kiss scenes from popular tv shows of the past. It's important to have gay moments on television. Decades ago when the first gay kiss on television happened people were in an uproar. Fortunately, as homosexuality has become more accepted these moments happened more and more.  You'll see more diversity across the LGBTQ spectrum with gays, transgenders, and nonbinary folks kissing and hooking up in television and film. 
If you want to know more about gay entertainment news subscribe to my newsletter.